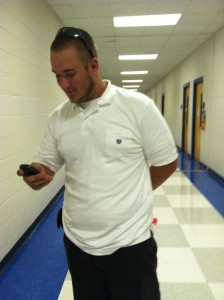 The first day of the 2011 school year introduced several new policies to the student body.  The most significant of these changes is the cell phone policy. Students are allowed to use electronic devices in between classes in the hallways.
"Leesville wants to keep up with its students and society," Mrs. Golden explained.
When asked her opinion about this policy, Abbey Tarnowski, freshman, said, "I really like it because it is so much easier to connect with friends for lunch. The only thing I'd change about it would be allowing us to use it in the classrooms before the bell rings."
Mrs. Golden explains the students' overall opinion and the faculty's standpoint. "[Students] love this new policy, and faculty is willing to implement it but is proceeding with caution to ensure that students do not abuse the privilege."
While loosening up on some policies, Leesville is seriously cracking down on others.
Students must show their lunch passes on the way to the parking lot. No more "trunking." No more fake passes.
Most students are not happy with this new policy.
Mackenzie Robinson, junior, said, "I was walking up the stairs, and no one was checking for passes. George walked up and made me pull out my pass, and it was at the very bottom of my book bag, so it took a while for me to find it. All my friends were far up ahead of me, and I had to run to catch up. It is so much faster to hurry up to your car and get your passes ready on the way down."
More information on all of the guidelines for new students can be found in the 2011-2012 student handbook.