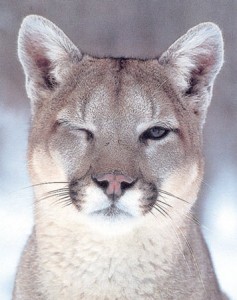 Attention underclassmen boys! An epidemic is sweeping Leesville Road High School.The symptoms include excitement, extreme confusion and severe emotional distress. If you notice any of these  be sure to notify the authorities–because senior cougars are on the prowl, confident and ready  to pounce.
About.com defines cougars as "an older woman who is primarily attracted to significantly younger men." Basically, older women who like younger guys.
"Cougars are older women who [admire] younger men," said Morgan Papanester, senior and self-proclaimed cougar.
The concept has existed for eons. Queen Elizabeth I, a prominent example, dated a man 22 years her junior.
However, this idea has become more commonly accepted and even glorified as time has passed.
Modern examples include celebrities Demi Moore, 47, and Ashton Kutcher, 32 who have been married since 2005. Madonna, 52, recently broke up with her 23-year-old boyfriend Jesus Luz.
The concept's new found glorification can be credited to– like a lot of things these days– the media.
Movies and TV shows like American Pie and Sex and the City give cougars a glamorous connotation. Both of the older females involved are rich, attractive and "well-to-do," and the males are young and vulnerable.
"Cougars love [dating] younger gentlemen to have the thrill of being so scandelous looking," continued Papanester.
This idea is epitomized by the cougar characters in each of these shows.
Little did we suspect, however, that it would spread to such a degree that it would become so evident at Leesville Road High School.
"Honestly, guys in our class aren't cute, and freshmen boys are cute and new; they are exciting," said Sophie Schroeder, senior and self-proclaimed cougar.
This odd infatuation is easily spread, which is why it is so dangerous.
"Yes, I've corrupted many of my friends," continued Schroeder. "My friends and I have a cougar cam, 'C.C.,' that is always powered on."
While explaining this, Schroeder holds her hands up to her eyes as if looking through binoculars.
"When I think of cougars I think of Morgan Papanester," said Karley St. Pierre, who is also a cougar infatuated with multiple freshman boys. "However, we do have several crushes in common."
Papanester and St. Pierre's recent prey is a sophomore named Griffin Engler. When I mentioned his name, they both quivered in delight.
"He sits to the left and back a row in my third period," giggled Papanester. "It's perfect for the casual…glance."
When asked about this, Engler smiled. "It definitely builds my ego, and it doesn't creep me out at all. I would definitely date a senior."
Despite his enthusiasm, these cougars still pose a threat. The are fickle; one must know how to properly treat a cougar, or her interests will wander.