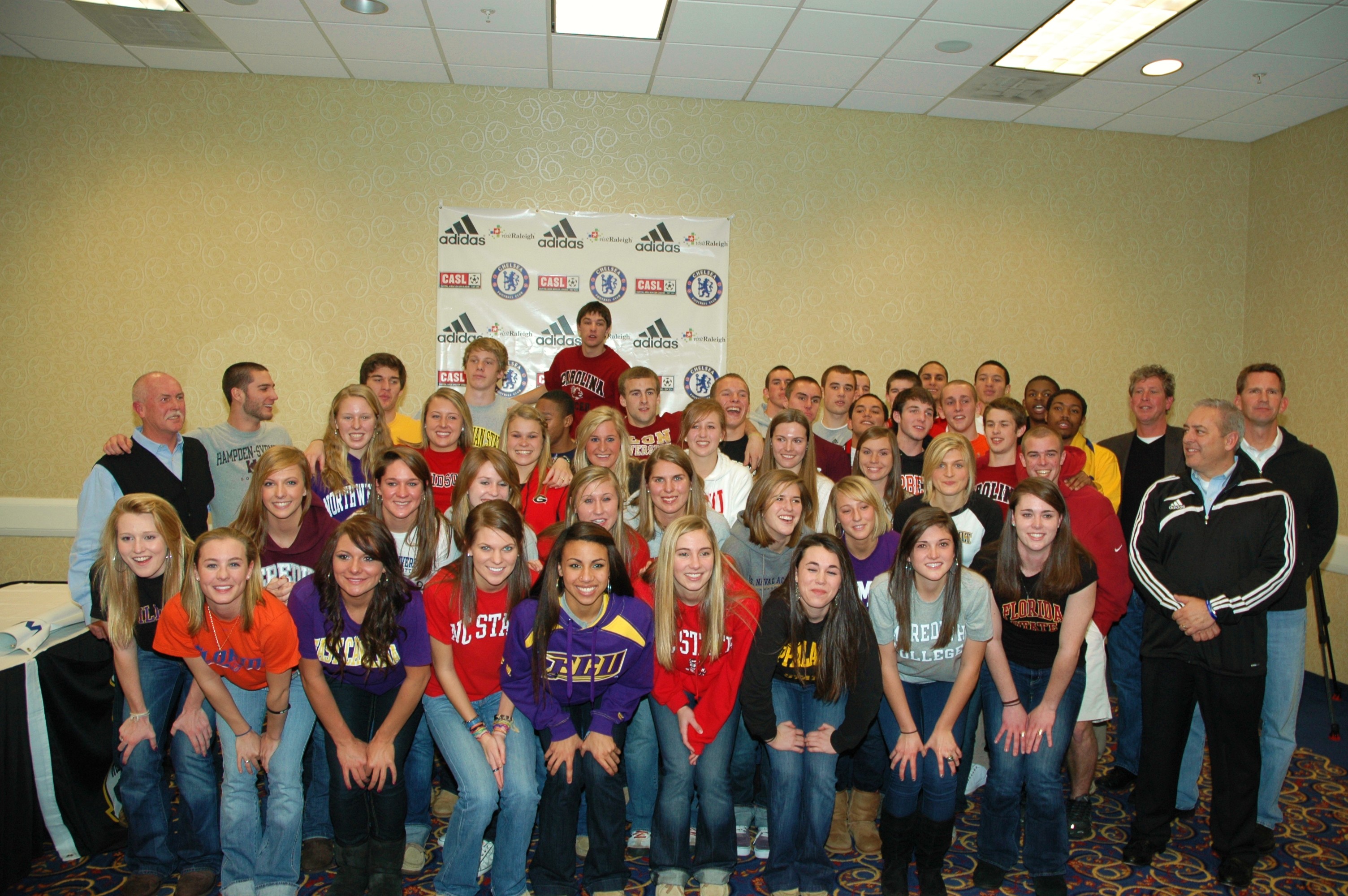 On Feb. 2, CASL(Capital Area Soccer League) seniors celebrated National Signing Day, legally committing to play soccer in college.
Erika Lenns, senior, verbally committed to Gardner-Webb University in July of 2009. Gardner-Webb is a small, Christian institution located in Boiling Springs, North Carolina. "It is a great school for education," said Lenns. "I will get a lot of playing time for all four years."
Brooke Walsh, senior, committed to play at Meredith College, an all girls school located in Raleigh. "It is a great school for education and for soccer," said Walsh. "The school really tries to make sure their students succeed and I will also get playing time as a freshman."
Walsh is more than eager to start playing in college. "The rush of excitement I get every time I step on that field [is going one of the best moments about playing in college]." She continued, "I just am happy that I am able to continue to play soccer for the next four years. Being part of a team is like being part of a family."
Nicole Jewell, senior, committed to Northwestern University, a private university located right outside Chicago, Illinois. "The school is going to give me a great education and also it is in the Big 10 so I will get to play with and against some of the best players in the country," said Jewell. Jewell has been looking forward to playing in college for quite some time. "I have wanted to play in college for so long and have worked really hard towards that goal," said Jewell. "I can't imagine life without soccer."
Claudel Pilon, senior, was offered to play soccer at North Carolina State University in April of her junior year. "I decided to commit to N.C. State because it is close to home
My family can still come to my games, also it's in the ACC which is a great conference so I'm going to be playing against some of the best players," said Pilon.
Considering N.C. State is in the ACC, Pilon will be competing against some of the best players in the nation. "I get to play against the best teams in the nation and in front of the hundreds of people. Every girls dream when they were little was to play for Carolina, and now I have the chance to play against them," said Pilon.
Pilon's dreams of playing soccer in college have finally come true. "I've always wanted to play college soccer since I was little, I don't think I could ever give up that dream." Luckily, she doesn't have too.
Davis Griffin, senior, committed in August of 2009 to the University of North Carolina at Greensboro. "I loved the coaches and the history of the program," said Griffin. Griffin shares the same passion for soccer that Pilon has. "All my life as a young soccer player, I would hear about the soccer dynasties such as Duke and UNC and Wake Forest. Now I am about to play against them," said Griffin. "It is an exhilarating feeling."
Bo Burns, senior, recently committed to Hampden-Sydney, an all-boys school located in Hampden-Sydney, Virginia. "I decided on that school because I would be getting a great private liberal arts education while having consistent playing time for four years."
He continued, "The best part about playing soccer in college will be hopefully competing for a conference championship every year and trying to get into the NCAA tournament. College without soccer would be hard to imagine, I've been playing competitively for 8 or 9 years so it would be weird to stop playing completely."