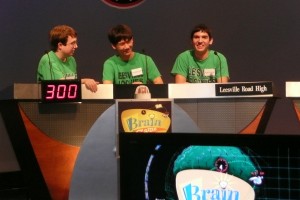 On Nov. 14, Andrew Christian, Nathan Miller and Woong-Soo Lee competed in WRAL's brain game competition.  Leesville competed against Fayetteville Christian School and Tarheel Challenge Academy.
Brain Game, a weekly game show aired on WRAL, includes three teams.  Each team competes to answer each question as soon as possible, and the points accumulated by each team during the game determine whether or not teams advance to semifinals.
Like the other teams, Leesville's team spent time preparing and planning strategies.
"We watched the news.  Once we found out which states and countries would be in the game, we divided them up.  I studied France and Louisiana," said Andrew Christian.  "Other than that, however, you never really know what to prepare for."
No amount of preparation, however, could prepare them for the actual match.  Nerves combined with random questions to provide for a difficult match.  "I was nervous because the last time I competed was before last summer," said Christian.
Watch WRAL on Jan. 2, 2010 to view the results.
Pierre Lourens served for The Mycenaean in 2008-2009 as a staff writer. In that year, he took on the project of creating the first online edition of The Mycenaean. The following year, he was a co-Editor-in-Chief with Amy Kreis.