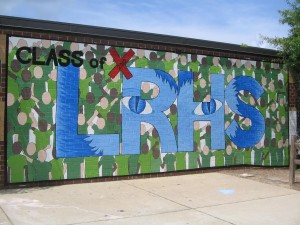 Every year since the school's opening in 1993, the senior class has decorated the intersection right outside of the school.  A few brave seniors sneak out during the early morning hours and cover what the previous class left behind. While a few of them actually work on the design, the others scatter around the surrounding streets looking for cops.
However, the school administrators feared that someone was going to get hurt or arrested. "We feel responsible for the students; we do not want our students to get into trouble over showing school spirit," said Dr. Higgins, Assistant Principle of Instruction.
Administration gave seniors the choice to show their school spirit on the wall by the back circle. The 2008 class jumped on the idea. 
Dr. Gainey posed the 2008 senior class idea. "I wanted to participate in the intersection, but I didn't really feel like going to jail. The wall was a good alternative to the intersection," said Kim Kern, 2008 senior. 
The 2010 senior class wall was finished days before school started. Over 20 students each day showed up to help paint the wall. Will Woodhouse, Senior Class President, described the atmosphere as an "exciting way to display our senior pride."  He and other student council members helped to pick out the design for the wall.
Lisa Franck, senior, designed the 2010 senior wall. "I wanted to design the wall to include the entire student body. One thing that really brings our school together is our sporting events; that is why there are so many people cheering in the background," said Franck.
At first glance, one might only see LRHS and the people in the background. However, if you look at the wall for awhile, a blue lion will emerge through the letters. "The lion is my favorite part of the wall. It is something people may not see at first glance, but once you have seen it once, you can't mistake its presence," said Franck.
The Senior Wall has become an emblem of Pride for the seniors. Every day when seniors pass it they are reminded that they really are seniors and that graduation is a little over nine months away. 
School administrators and staff are happy that students are continuing to paint the wall in such a safe and respectful manner.
 However, in the intersection lies an "X" with a paw print in the center of it. Although some seniors still decided to paint the intersection it is unquestionable that more dedication and enthusiasm surround the senior wall. The intersection designs have become less and less intricate since 2008, and the senior wall has become more and more in depth. The Senior Wall has become the new tradition at Leesville as it embodies what the current senior class will represent.