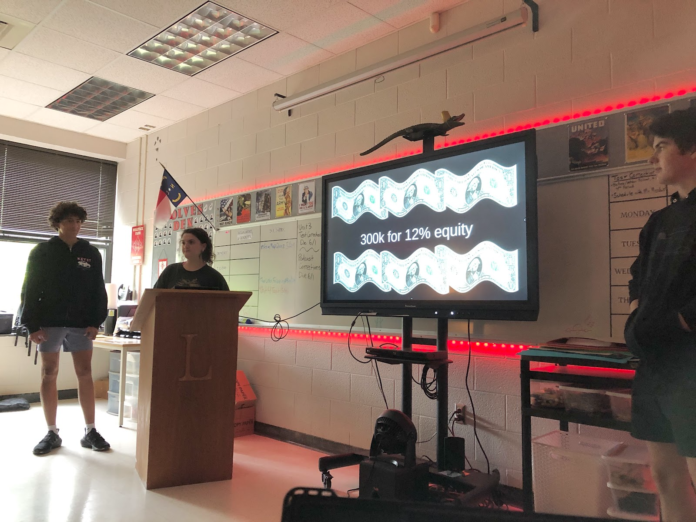 On Friday, May 25, Mr. Merchant's Civics and Economics class took part in presenting their pitches for their Shark Tank Business project.
Shark Tank is a popular show where entrepreneurs introduce business pitches for their companies. In turn, the sharks make offers for stakes in their business.
Merchant's project took inspiration from the show. In groups of no more than four, Merchant tasked students with creating a product and a company to go along with it. Some examples of the student's creations are a controllable pheromone-emitting dog collar or lipgloss that changes colors if it detects a date-rape drug.
The students had two class periods to work with their business partners in researching what it takes to manufacture the product, how much money is needed to support the business, how to advertise their product, and how to market their business to the sharks.
Merchant selected the sharks at random to ensure that there was a difference in personality and dynamic. Some were boisterous, while others took a more logical approach.
Groups presented their business ideas to the sharks, taking 10-15 minutes to get through the entire presentation, including the shark's questions.
The sharks asked numerous questions to ensure that their investment would be worthwhile. The questions they asked gauged what the entrepreneurs would do with the money from the sharks, what their business will look like in the future, and the general logistics of their product.
Countering the sharks, the entrepreneurs asked questions assessing what the sharks could do for them to help their business, such as getting their product into retail stores.
A back-and-forth took place until the entrepreneurs and the sharks reached a decision.
Ash Lassiter and Mathew Simmonson, seniors, were entrepreneurs. They presented their product, the Super Toaster 3000. The product featured a toaster, microwave, air fryer, coffee pot, storage compartment, and Bluetooth all in one device. They priced their product at $700.
The group's goal was $600k from the sharks for 30% stakes in their business. They were hoping to use this money to expand west.
The sharks were intrigued but had a concern: the price.
Daniel Pearce, a shark, agreed with their asking offer. However, he said they would have to increase their price if they worked with him.
The business partners discussed his offer, comparing it to what the other sharks offered. They accepted Pearce's offer.
The project sounds like fun and games, and it was. However, the project gave students a helpful insight into entrepreneurship and business.
"It taught me that it is difficult to manufacture a good product for cheap. People are so used to fast fashion and cheap labor that no one is willing to pay for quality," said Megan Lamm, senior.
Overall, the students had fun with the process and presenting their project. The project was a successful tool in teaching his students how starting a business works.
Hi, I'm Kira. I am a senior and I am also a tripet!