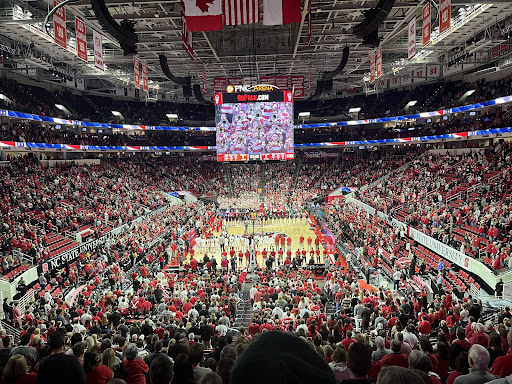 NC State's men's basketball attendance is up significantly from last year. The team has only lost once at home this season. (Photo courtesy of Jack Short)
On February 1, NC State hosted Florida State in Raleigh for an important conference game. NC State continued their winning ways with yet another home ACC win.
A strong 32 point performance from NC State's Terquavion Smith, sophomore, helped lead the pack to a 94-66 win against the Seminoles.
From tipoff to final whistle, the Pack dominated. FSU held their only game lead with an opening bucket to make it 2-0. This was immediately followed by two deep three pointers from Terquavion Smith.
At one point in the first half, NC State led 35-6. The Pack also went on a 27-2 run in the first half with great shooting and rebounding from the whole team. NC State led 49-27 at the half.
In recent games, NC State struggled heavily with staying out of foul trouble. Although they sustained a 15+ point lead for the entirety of the second half, the wolfpack's star big man, DJ Burns, picked up his fourth foul early in the second half.
As they have in all their games prior, State overcame foul trouble and continued to keep the foot on the gas.
Throughout the remainder of the second half, NC State tried to get some of their less experienced players some minutes. LJ Thomas came in to run the show at point guard and dropped seven points. Ebenezer Dowuona also got to play due to DJ Burns being in foul trouble.
The Pack now holds an 18-5 record which is their best start since the '05-'06 season. NC State's fast paced play is becoming their calling card as they head down the stretch.
I play wide receiver here at Leesville. I love writing and talking about sports!