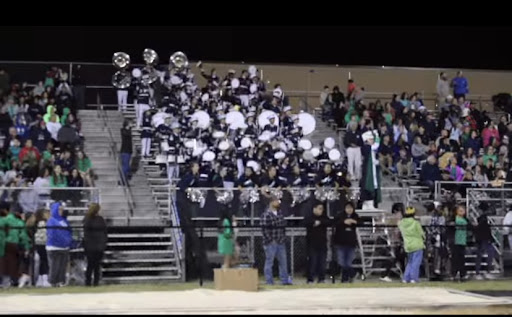 Every home game on Friday nights the Leesville Road High School Band plays to support the football team. 
"[Marching band has] morning rehearsal and then practice marching on the field during 4th period," said Moses Nyang'ute, junior who plays in the drumline and has played the quad drums since middle school
The marching band is different from other bands. Intermediate band is the lowest level, then Concert Band, and Symphonic Band/ Marching Band, which is the highest level. 
Marching Band being the highest level requires more time and effort. "When you're in the marching band I think it's really important to follow directions," said Nadia Harris, sophomore who has played the clarinet for 5 years, over text messages.
The marching band is not just people who play in the Leesville band. Leesville marching band also includes color guard. 
"[Color guarding is] using flags and weapons like rifles or sabers which is like a sword. It makes the marching band show kind of like a visual effect," said Sofia Ortiz-Anglero, junior who is in her first year of color guarding.
"[Color guard] practices during the 4th period before the football game and then we come early and warm up all our equipment. It depends on what you do: If you dance then you warm up your entire body, rifles and sabers warm up your hands and flags," said Angie Mejia, sophomore who has been color grading for 2 years.
"I love performing, not just during halftime but in the stands, but I really like the dance prospect of it," said Mejia.
"They are really fun, especially the drumline during halftime. We play in front of the student section, so it's very enjoyable," said Nyang'ute.
Hey I am Meonna Sloan and I am a sophomore at Leesville Road High School.