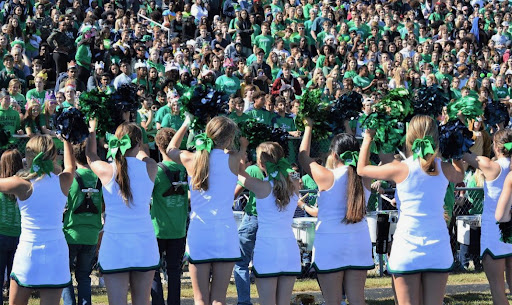 In fall of 2019, Leesville Road High School (LRHS) stopped having prep rallies due to Covid-19.
"During the pep rally, the whole school came to the field, and we did a dance and did a stunt, like a big pyramid and then we were cheering to the crowd," said Clare Smawley, a senior and two-year varsity cheerleader at Leesville.
"The football team did an introduction to their season during Homecoming week. So it was really fun and a lot of spirit," said Smawley.
But since Leesville hasn't had one since 2019, the class of 2024, 2025, and 2026 haven't had that pep rally experience. 
"I feel like they are a great way to show school spirit and support," said Carolann Hardin, a administrator at Leesville Road High School, over email.
It has been three years since Leesville had a pep rally. "Considering I haven't had one since freshman year [and] it was my first prep rally so it was a good experience," said Elijah Mickle, a senior and a 3 year varsity football player.
Georgia Lilley, a sophomore at LRHS who has been on JV cheer for 2 years, said, "I do wish we had pep rallies because they seem super fun and are engaging." 
With Covid being less of a threat this year, Leesville is bringing back pep rallies.
Hey I am Meonna Sloan and I am a sophomore at Leesville Road High School.