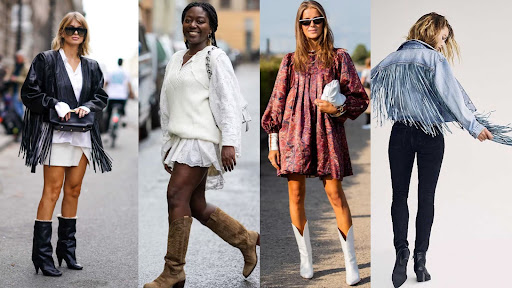 The internet has recently shown many style stars in western chic fashions that you can incorporate into your wardrobe. 
The western aesthetic has been popular for a few seasons, but has shown transformation this spring and will continue to stomp as it gains popularity. 
Fringe and boots, once known as work-wear for farmers and horse riders, recreated themselves into glam clothing pieces. 
There are several styles of boots, jackets, and jeans that support all clothing preferences. So whether you prefer the look of classic brown soft leather, metallic silver, or even red with embroidered flowers, all fit right in with the trend. 
"After going to country concerts this summer, I've learned how to style western clothes, like boots. I've really grown to like the style and am looking for some cute boots for other places outside of concerts," said Ally Fuhrer, a junior at Leesville
Here are a few western chic inspirations: 
Fringe
Fringe is showing up on dresses, vests, boots, and bags. Take your most basic outfit and add a fringe trim vest or take your most simple accessories and pair them with a fringe dress to give your look a complete 180.
Adding trim gives outfits a jolt of style energy. In the old American west, fringe was added to clothing because it was a comfortable style that provided more appeal to a basic outfit. 
Western Boots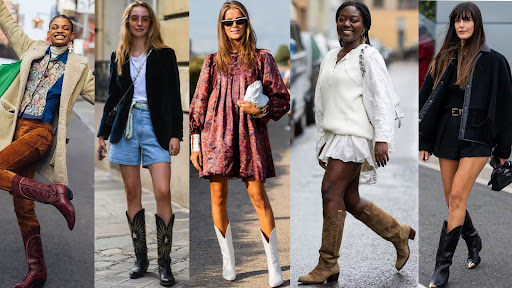 Searches for ways to style western footwear have steadily been on the rise. We are all still figuring out exactly how to make the trend work. Yet thankfully, there isn't just one style that reigns supreme.
There are several ways to style boots outside of simply pulling them over a pair of blue-wash skinny jeans and knotting a flannel shirt at the waist. Try wearing them with a patterned skirt, printed coat, sweater dress, or even simple denim shorts.
Some places you can find western chic styles are ASOS, Free People, and Anthropologie.
The key to western chic is to pair old-fashioned trends with trendy clothing pieces to give more of a polished look. It's time to embrace your preppy and ranch-loving sides.
Hey! I'm Viv. I am president of the club Pride Players, as well as a member of NHS, FCA, and SNAC Club. I also play on the Varsity Softball team. You will probably see me around school or at sporting events with my camera!