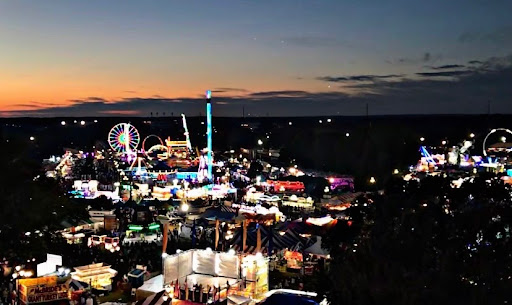 Fall is approaching fast, and there are many things in Raleigh that you don't want to miss — from pumpkin patches to haunted houses. Here is what to be on the lookout for this season:
North Carolina State Fair
:
It's that time of year! The NC State fair will be open from noon to 11 p.m. October 14 – October 24 this month.
The State Fair brings all kinds of fun to Raleigh. Located right outside the NC State University campus, the fair presents a vast amount of rides, games, shows, food, and more. 
New to the State Fair this year:
Rides:
 "Itsy Bitsy Spider Wheel" – A massive, spider themed ferris wheel. 
The "Sky Hawk" – In the form of a vertical tower, this ride allows riders to feel like they are flying.
Food:
 "Bayshore Services" – A creamy twist on hand-shaken lemonade.
"Atomic Tots" – Spicy, loaded tater tots.
Vendors:
"Photo Booth Therapy" – A photo booth that fosters "confidence, positivity, and beauty."
"Color Street" – This vendor sells easy-to-apply nail polish strips in many different colors and designs.
Tickets are on sale now, and range from $5 – $13. There are many exciting things the state fair is bringing to Raleigh so don't miss it!
Panic Point: "NC's #1 Haunted House"
Panic Point is a spooky venue in Youngsville — right outside of Raleigh. Their top 5 haunted attractions are the Haunted Forest, Dark Trail, Howling Hayride, Killers in the Corn, and Menacing Maze. 
Each of these attractions has its own unique aspect to scare visitors. The Dark Trail, a fan favorite, is in the dark woods with only a rope to guide the path. Click here to read more about each attraction.
Panic Point is open on the following dates in October:
Tuesdays: 10/26
Thursdays: 10/14, 10/28
Fridays: 10/8, 10/15, 10/22, 10/29 
Saturdays: 10/9, 10/16, 10/23, 10/30
Sundays: 10/24, 10/31
A general admissions ticket, $29 – $35, will gain you admission to any of the top 5 attractions. A VIP ticket, $49 – $69, will allow you to join the VIP line at the box office and all top 5 attractions. Check here for more ticket information and Panic Point hours.
Concerts:
With vaccination rates going up, music artists are starting to tour again. This fall, there are a variety of different concerts happening in Raleigh. 
Jonas Brothers: The Remember This Tour – On October 13, the Jonas Brothers are performing at the Coastal Credit Union Music Park at Walnut Creek. Go get tickets before they are sold out!
Zac Brown Band: The Comeback Tour – If you're more into country music, the Zac Brown Band is coming to the Coastal Credit Union Music Park at Walnut Creek on October 15.
Modest Mouse: If you're into rock, don't miss the Oregon-based band Modest Mouse. They will be performing at the Red Hat Amphitheatre on October 21.
Isaiah Rashad: Lil Sunny's Awesome Vacation – If you need something to do around Halloween, head over to The Ritz. Isaiah Rashad, american rapper, will be performing on October 30.
Local Pumpkin Patches:
If you want something more relaxed to do this fall, head over to a local pumpkin patch. 
Page Farms: Admission into page farms is $15. With this, you can pick pumpkins, visit farm animals, go through a corn maze, and enjoy a hayride. Page Farms is open Wednesday – Sunday. 
The Pumpkin Patch Leesville Rd: If you're looking for something simple, head over to The Pumpkin Patch off Leesville Road. They offer a variety of pumpkins for affordable prices.
Durham Highway Fire Department: Located right off Leesville Road, the Durham Highway Fire Department is hosting a pumpkin patch fundraiser for the third year in a row. They have a very large selection of pumpkins, and all money raised goes towards buying equipment for the fire department.
Hi! My name is Mary. I'm the engagement editor for The Mycenaean. I am a member of the Leesville Symphonic Band and I have 3 dogs!