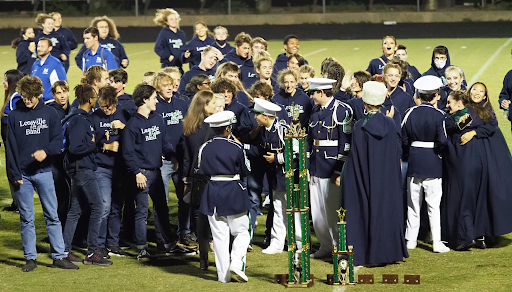 The Leesville Road High School Symphonic Band had its first marching band competition of the season on Saturday, September 25, 2021, at Pinecrest High School.
The Pride band traveled to Southern Pines to participate in a marching band competition for the first time in two years. The competition is called Band Fest, and Pinecrest High School hosts it every year. Pinecrest High has held this competition since 2007, but due to the outbreak of Covid in 2020, they were forced to cancel last year's competition.
Around 5:30 pm, Leesville performed their show "Immortal" for a full crowd. Their show is centered around vampires and it tells a very intriguing story; the audience was captivated by Leesville's performance.
After their performance, the Pride band changed out of their "A Uniform" and ate dinner, awaiting the start of the awards ceremony. The following Lieutenant Personnel Officers went out on the field to accept awards for Leesville:
Amaya Montegue: Captain 
Lucy Grindstaff: Drum Major
Owen Marcellino: Student Conductor and Librarian 
Jason Fogelsonger: Drumline Captain
Abby Beasley: Front Ensemble Manager 
Lizzie Carson: Colorguard Captain
The auxiliary awards evaluated the drum major, percussion, visual ensemble, general effect, marching, and music. These awards were handed out to a winner and runner-up in each class. Then, there was an overall champion named for every class.

 The classes at this competition were A, AA, AAA, and AAAA (the larger the band, the higher the class). There were 9 bands in total with, on average, 2 bands in each class. Leesville was in Class AAA with Northmore High School. The Pride band took first place for all auxiliary awards in Class AAA and was the Class AAA champion. 
In Class AAAA, Union Pines High School received first place in all categories and received Class AAAA champion. So, it was a close competition for grand champion.
Union Pines and Leesville tied with a score of 86.0 in the total score category. They also tied with a marching score of 25.0. For general effect, Union Pines scored 0.67 higher than Leesville. However, Leesville scored one point higher than Union Pines in the music category, making Leesville the grand champions of the Band Fest.
The Pride band has their next competition on Saturday, Oct 2, at Middle Creek High School. Show up to support the band and follow @leesvilleband on Instagram to stay updated!
Hi! My name is Mary. I'm the engagement editor for The Mycenaean. I am a member of the Leesville Symphonic Band and I have 3 dogs!