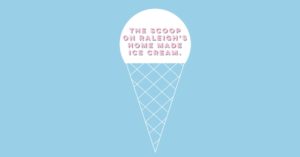 Most people agree Memorial Day ushers in the summer season.  Here in Raleigh, that summer season comes with hot and hazy days where you want to run inside to the air-conditioned coolness.  But there's another way to beat the heat.  Nothing is better than cold ice cream on a hot summer afternoon.  You can get ice cream at any grocery store or any of the many national chain ice cream shops.  But, there are a number of local, homemade ice cream shops in our community where you can find a cool tasty treat made in our own backyard.  All are simple hometown start-up businesses and worth a visit!  Here's the scoop on the local homemade ice cream scene: six local ice cream businesses that use 100% NC-produced dairy to offer up delicious frozen delights.
Fresh. Local Ice Cream – Fresh Local Ice Cream is a hometown chain in the Triangle, with three locations in Apex, Cary, and Glenwood Avenue in Raleigh.   Fresh opened in 2011 by ice cream lovers, Ellen and Brett Hillman.  Fresh sources its dairy from Jackson Farm in Godwin, NC, and many of the ingredients for its flavors are also from local producers.  Fresh has 16 flavors that are available year-round, including Banana Pudding, Carolina Crunch, and Salty Caramel Fudge, as well as several monthly seasonal flavors.  The Fresh menu also includes milkshakes, sundaes, and ice cream cakes. Fresh also has an ice cream truck that is available for catering.
Jason Hillman, son of owners Ellen and Brett, said, "It's a family-owned small business that cares about its community."
---
Lumpy's Ice Cream – Lumpy's Ice Cream is a local shop in Wake Forest, NC.  Lumpy's was founded in 2001 by Buck Buchanan, whose main goal was to make a healthy treat.  Buchanan began Lumpy's in a shed behind his house.  Lumpy's use locally sourced, hormone-free milk from a family farm, and fresh, all-natural fruits added for its flavors.  This ice cream store adds as little sugar as possible and avoids using any kinds of artificial filler, colors, or flavoring to produce healthier ice cream.  Lumpy's also has an ice cream truck used for catering and selling ice cream at the NC State Fair.  Lumpy's boasts 400 flavors of ice cream, including Wired Hippie, Bacon and Bourbon, and Backyard Blackberry.  Lumpy's only offers 16 flavors at one time, rotating them often.  
---
Andia's Homemade Ice Cream – Andia's was originally founded in 2014 solely as a catering operation by Andia Xouris and her family.  The company has since grown to have two permanent locations in Cary, NC.  All the ice cream from Andia's is made in small batches in a small commercial kitchen with local ingredients added into the various flavors.  Andia's uses high-quality milk and cream sourced from local family-owned dairy farms, and fresh fruits and herbs from local NC producers.  Andia's has 15 regular flavors which are available year-round, including Ube Purple Potato, Baklava, and Cotton Candy.  This ice cream store also includes eight new flavors of the month that rotate with what's in season; in May, the flavors included Tres Leche, Lemon Poppy, and Blueberry Cobbler.  In addition to ice cream and sundaes, Andia's has created a large online following for its homemade "crazy shakes".
---
Goodberry's – The oldest local ice cream purveyor, Goodberry's Frozen Custard, opened in 1988 here in Raleigh, NC, by owner Harry Brathwaite.  Since then, Goodberry's has expanded to have nine locations in the Triangle and two locations in Canberra, Australia.  Goodberry's keeps a simple recipe with milk, cream, sugar, honey, and natural vanilla in its products.  The addition of egg yolks is what makes it frozen custard, which is usually denser than ice cream.  In each store, Goodberry's serves frozen custard that is made fresh every hour, with basic flavors including Vanilla, Chocolate, and No Sugar Vanilla.  Goodberry's also has a flavor of the day which rotates every day, including Pina Colada, Birthday Cake, and Pineapple.  Goodberry's also offers banana splits, milkshakes, and sundaes.
---
Two Roosters Ice Cream – Jared Plummer, owner of Two Roosters, opened the first location in 2014 at the Durham Bulls Stadium.  Since then, Two Roosters has opened an ice cream truck, and two locations in Raleigh, NC.  Two Roosters sources their milk and cream from a small dairy in Julian, NC, as well as NC State Dairy.  Two Roosters offers 11 "forever flavors" which you can find year-round, including Sea Salt Cookie Dough, Double Fold Vanilla, Girl Scout Mint, and Roasted Strawberry and Honey.  Every month, Two Roosters invites six "guest flavors"; in May, these flavors were created by local elementary school students.
---

NC State's Howling Cow – In the 1940's, scientists at NC State University first began making ice cream on campus, which was only available in the school cafeteria.  By the 1970s, the school began to sell ice cream at the NC State Fair.  In 2008, the university's ice cream became known as the Howling Cow.  Their ice cream is still made on campus with the milk and cream from the 300+ cows on the NC State agricultural farm, located just south of Raleigh.  Howling Cow has a variety of flavors available year-round, including Strawberry, Wolf Tracks, Lemon Wafer, and Cookies n' Cream.  Howling Cow has expanded from selling on campus to the freezer shelves of local Harris Teeter grocery stores.  The recently added Dairy Education Center and Creamery location provides an opportunity for patrons to enjoy their ice cream within sight of the cows that supply the milk.  Howling Cow also sells milk, eggnog, and other dairy products at the Dairy Education Center and Creamery.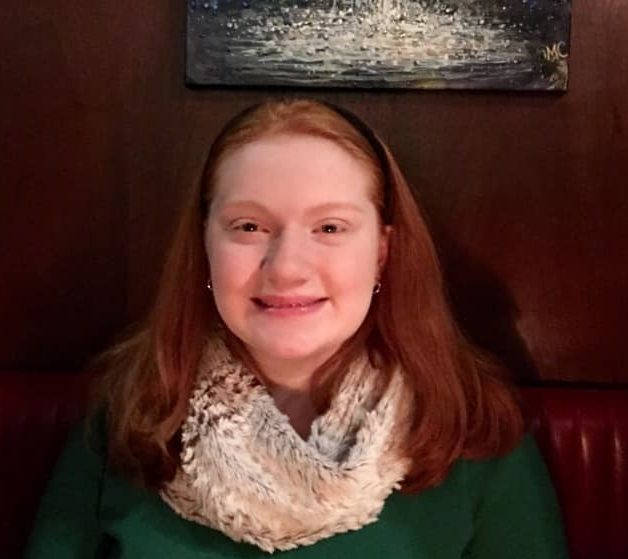 Hi! My name is Alexis Taylor, and I'm a staff writer for The Mycenaean. I am also a volunteer video editor for my church. I love older music, TV shows, and movies!