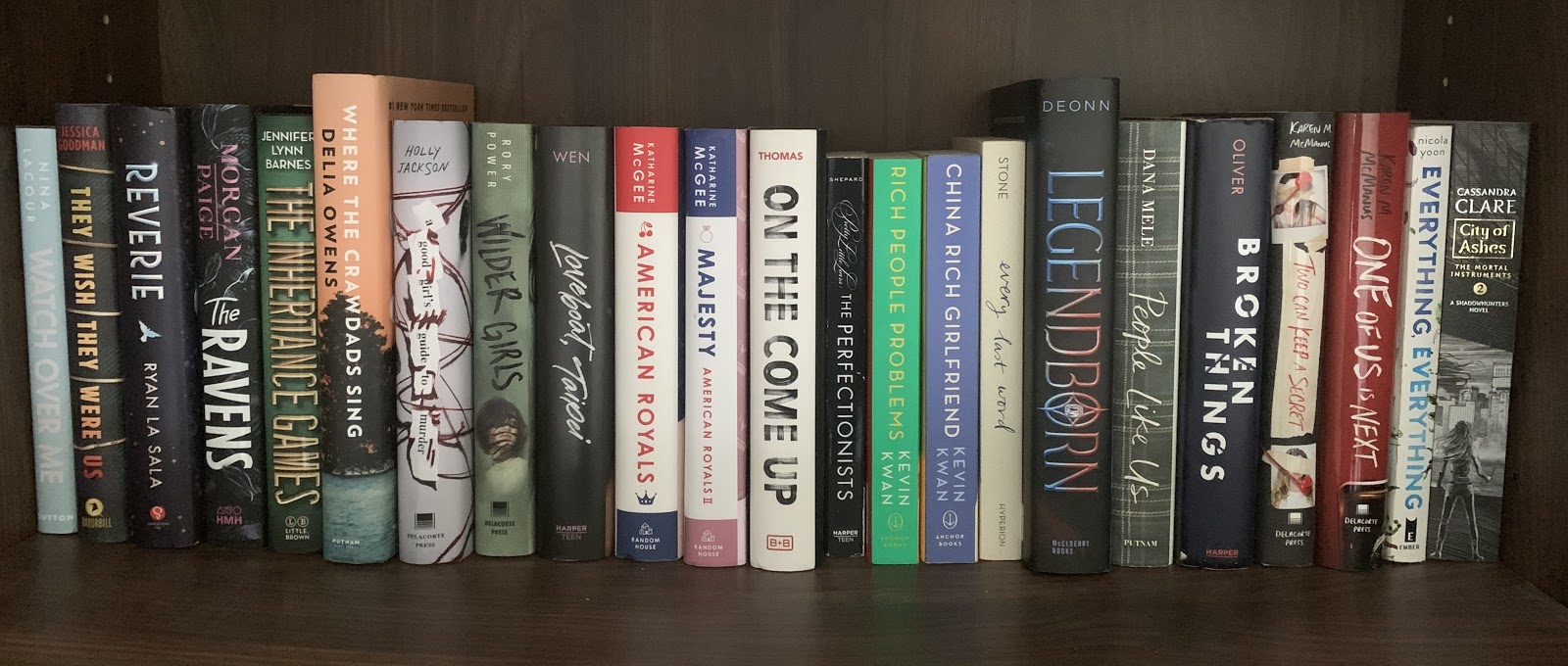 Books are an opportunity to escape this world and go into another world full of mystery, fantasy, romance, and horror among other things. With millions of Young Adult (YA) books in circulation, it can be hard to find what is best to read. 
Luckily, I have read many books throughout the years, and I have accumulated the best list of YA books that I can think of.
Confessions series by James Patterson and Maxine Pietro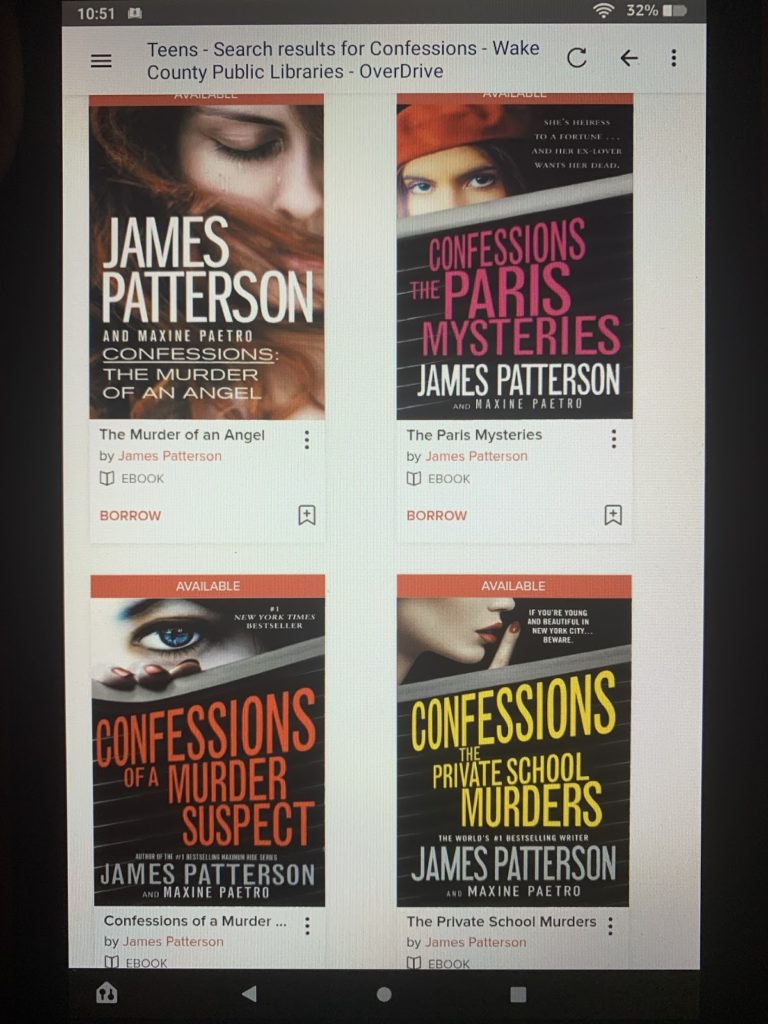 Release date: 2012-2015

Plot: Tandoori "Tandy" Angel is the daughter of wealthy pharmaceutical owners. Tandy finds her parents dead in their secure apartment, with no signs of forced entry indicating someone in the family killed her parents. While trying to keep her three brothers together and fend off media attention, Tandy tries to figure out who killed her parents. 

Books in series: Confessions of a Murder Suspect, Confessions: The Private School Murders, Confessions: The Paris Mysteries, Confessions: The Murder of an Angel.

My opinion: The Confessions series is one of the best series I have ever read. Patterson and Pietro filled the series with twists and turns, and I could never figure out who did what! The characters and plotlines are intricately woven together and fit perfectly into the story. The ending leaves everyone satisfied. This book is perfect for those who love mystery, suspense and being on the edge of your seat.

Where to find it: Wake County Public Libraries, Amazon, or Barnes & Nobles.
Crave series by Tracy Wolff
Release date: 2020-2021
Plot: Grace Foster's parents died in a car accident, and as an only child, she is sent with the next immediate family, her uncle in Alaska. Grace is shipped from sunny California to frosty Alaska in an isolated boarding school full of supernatural creatures. Where there are supernaturals, there's always trouble.
Books in series: Crave, Crush, Covet, & Court (to be released in September).
My opinion: There aren't many supernatural series since the Mortal Instruments series and the Twilight series that capture my attention. The series accurately portrays mishandled elements in novels like mental health, loss, grief, and strong female leads. It is perfect for those who love fantasy and romance series.
Where to find it: Wake County Public Libraries or Amazon.
The Girl in the Picture by Alexandra Monir
Release date: 2016
Plot: After the sweetheart on campus Chase Porter is found dead, a polaroid with Chase and a girl other than his girlfriend, Lana Rivera is found. The girl in the picture is his girlfriend's best friend, Nicole Morgan. Nina tries to dodge media attention, deal with her grief, avoid her best friend and figure out who killed Chase.
My opinion: I've read lots of mystery books but this one stands out from the others. Other than the two points of view, the reader sees both relationships form, while slowly piecing together the murder. The murderer can be predictable from the information given, but the stories and trials of the girls saves the book.
Where to find it: Amazon or Barnes & Nobles.
Loveboat, Taipei by Abigail Hing Wen
Release date: 2020
Plot: Ever Wong, a Chinese-American girl, attends a camp in Taipei. Ever does not want to go to Taipei during the summer because she feels disconnected from her culture and wants to pursue her dreams of dance, which her parents are vehemently against. When Ever arrives at the Loveboat, she realizes there are no rules or supervision like at home, so Ever becomes immersed in her culture and finds love.
My opinion: There are not a lot of books about people of color and their experiences being a part of both cultures and struggling to connect fully to both. It is refreshing to see Ever find her way to learning who she is and standing up for herself to her parents. This book is great for those who love coming-of-age stories and romance.
Where to find it: Barnes & Nobles, Amazon, or Wake County Public Libraries.
Legendborn by Tracy Deonn
Release date: 2020
Plot: Bree Matthews, a Black girl from North Carolina, is attending an early college program at UNC-Chapel Hill a year after her mother died in a mysterious accident. After she saw magic on her first night, she remembers a strange memory about her mother's death. Bree becomes immersed in an all-white secret society to find out what truly happened to her mother. 
Books in series: Legendborn and Unnamed sequel.
My opinion: As a Black girl living in the South, it is thrilling to see a story with the main character as someone I can relate to. The story discusses microaggressions and the power of Black girls. Legendborn is perfect for finding a character you can identify with in a book full of magic and mystery. It's also nice to see a local story where you can identify with the setting.
Where to find it: Barnes & Nobles, Amazon, or Wake County Public Libraries.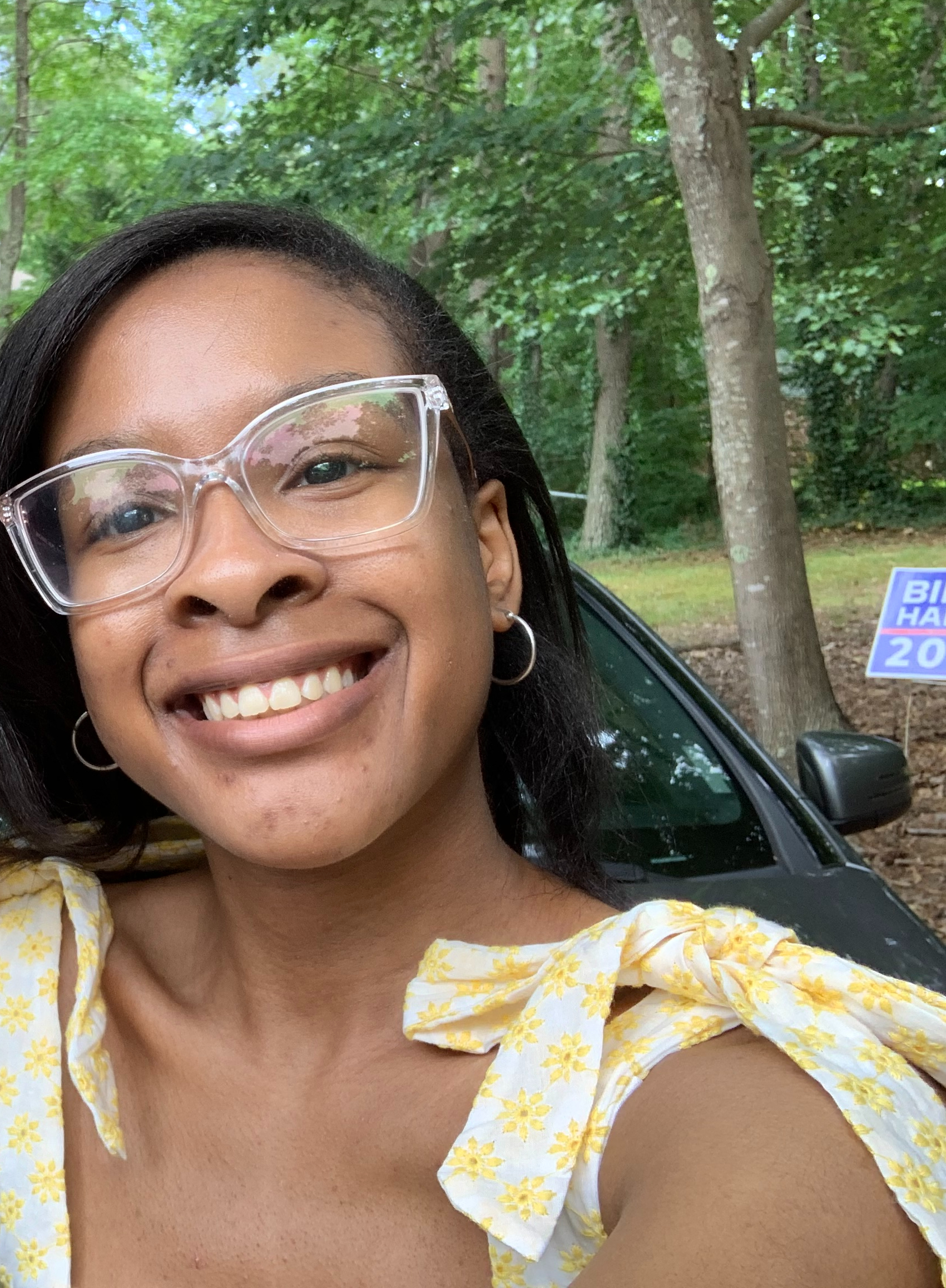 Hey guys! My name is Dayna, and I am the Editor-in-Chief of the Mycenaean this school year. I love reading, cooking/baking, and hanging out with my friends and family!