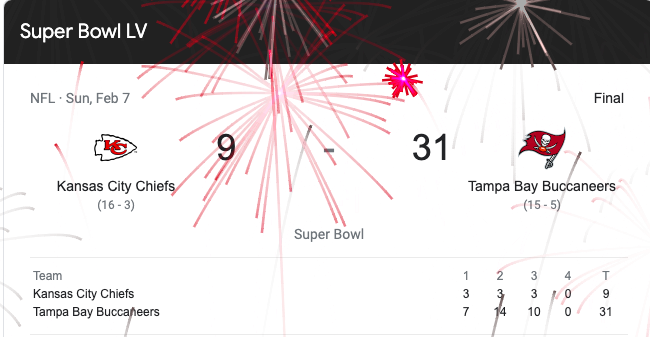 2021's Super Bowl LV was unprecedented as COVID-19 concerns and safety precautions limited gatherings. The unusual circumstances of this year' football game between the Buccaneers and the Chiefs resulted in a disparity from the usual amount of viewers, creative and safe forms of celebration, and many different opinions on the NFL's decision to host the Bowl.
Committed Super Bowl enthusiasts found ways to celebrate the annual event with friends and family as safely as possible. While so much has changed in the last year, the Super Bowl is an American tradition that brings people together, and was a beacon of normalcy in a strange time.
Natalie Gore, a former Leesville student and self-described "football girl," made the best of this year's unique Super Bowl by celebrating with a small trusted group. "I celebrated the Super Bowl by spending time with my Covid 'bubble' of friends – other people I've essentially quarantined with," said Gore in an interview via Instagram messages. "My friends and I ordered some food (wings, fries, chips and dip) and watched the game together."
To Gore, celebrating the Super Bowl is a beloved tradition. Difficult times only increased the importance of continuing it. "Football is the sport that really brings the whole family together and gives us something to have fun with. The Super Bowl is simply an extension of that, a great way for my family to spend time together and have fun with the sport we love," said Gore. "I love to see a good game, and I feel that the sport is something that can unite football fans even in such trying times."
For many, the obstacle of COVID eliminated the socialization aspect of the Super Bowl, rendering the game itself not worth watching. An Instagram poll revealed a 7% gap between the number of people who normally watch the Super Bowl and those who watched it this year.
"The Super Bowl is mainly just a social thing for me," said Maggie Salisbury, a senior at Leesville Road High School, in an interview via text. "Without the parties and friends and my extended family that normally would come over to watch, it was just another football game, which I don't really care about."
Salisbury stated that her motivation to pay attention to the game most years is based on being able to cheer a team on with friends. This year, she only watched the halftime show and a few commercials.
"My brother and dad were into it, but I just watched the Weeknd," said Salisbury. "I like having parties and making special foods, my family always makes a big snack dinner of like wings, cheese and crackers, chips, soda etc. so it's just a fun little celebration to look forward to. This year we couldn't have it and the game itself wasn't worth watching."
However, some people felt discouraged from watching the game not because of the lack of celebration, but because of their disagreement with the NFL's decision to host the Super Bowl this year. Ethan Mercer, a junior at Leesville, was one such protester.
"Every year since I was little, I watched the Super Bowl with my parents. However, this year we didn't even bother turning it on," said Mercer in an interview via Instagram messages. "I couldn't be more repulsed by the NFL… People in the audience weren't socially distanced or wearing masks. I saw multiple photos and videos of my classmates hosting or attending large Super Bowl parties. The Super Bowl is a social event, and the NFL should not have had it under these circumstances."
The National Football League's decision to host the game despite safety concerns surrounding the pandemic was just one political motivator in Mercer's decision not to watch the Super Bowl. He disagrees with a lot of the decisions that the NFL has made in the past several years. "In the past few years I've lost a lot of respect for them between firing Colin Kaepernick for exercising his constitutional right to kneel during the National Anthem, the countless scandals that players and team owners have been involved in, and the league's decision to host the Super Bowl this year in the midst of Covid, despite knowing full well that it will lead to parties and amplify the virus."
This year's Super Bowl was unusual in many different aspects. The Leesville community spent the evening of the game in a variety of ways, from celebrating wins to boycotting political decisions. Regardless, it's safe to say that this year's Super Bowl was unlike any other.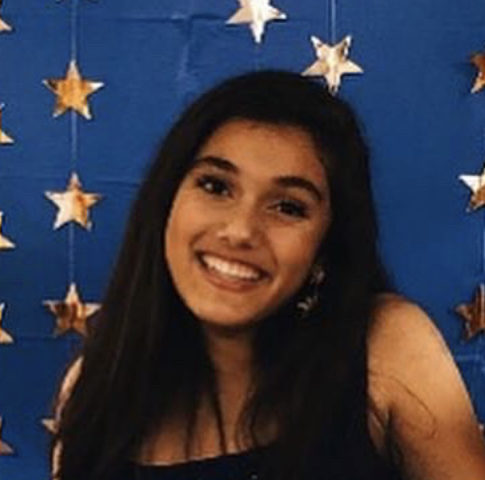 Hi! My name is Jannah and I am a senior editor and multimedia editor for The Mycenaean. I am also a math tutor, engineering intern, and a tennis player.