Boyce Farms is a family-owned Christmas tree farm located off of Mt. Vernon Church Road. This family business has spanned 3 generations and spreads the love and joy of Christmas to all who visit.
Mike and Sheila Boyce are the owners of the farm. They run it with the help of their children Jennifer Lavrack and Michael Boyce. 
"My parents started growing Christmas Trees when my brother and I were tiny. I have fond memories of my brother and I push mowing around each of the trees and helping mow grass for what seemed like hours," said Lavrack over email. Her memories of the farm show how dear it is and how it has always radiated Christmas spirit. "I remember when I was about 5 years old sitting around the burn barrel on the tailgate of the truck with my dad as we waited in hopes that one or two customers might stop in to cut down a tree."
The farm has grown to become a popular place to buy Christmas trees, with an abundance of customers every year. "It is always neat to see the circle of customers who come each year as a result of word of mouth of our business as well as family connections and employees/team members working at our farm who recommended that people stop by," wrote Lavrack. Their farm has grown to include many different activities and types of trees, all emanating the Christmas spirit. 
Boyce Farms imports trees from the mountains and in addition to growing their own on site. "Our atmosphere is likely different [from other lots] as we are a Christmas tree farm rather than a tree lot on a corner. While we bring in Fraser Firs from the mountains since they won't grow locally due to climate and elevation, we do have a few varieties of trees that we grow onsite making it a 'farm'," wrote Lavrack. 
The atmosphere is family friendly and fun, complete with vendors, decorations, wreaths, and of course plenty of Christmas trees. "Over the years we have had a vendor or two here and there ask if they could come out and set up to sell some of their items. We have allowed it and plan to continue as long as it doesn't affect the functionality and logistics of our business and so far have found it to be a decent addition," wrote Lavrack. 
This year had vendors selling different Christmas ornaments and Christmas wood decor.
Not only does the farm provide a fun environment to pick out Christmas trees but also provides authentic opportunities for people looking to have some holiday fun. There is a popular "Wine and Wreaths" session where people can sign up to learn how to make a wreath while having fun with family and friends. The fields where the Christmas trees are grown on-site are also popular to walk through, giving some authenticity to the holiday season. "We often find that customers walk through our field for the experience but may end up buying a pre-cut tree. They took advantage of the opportunity to be able to walk around and even bring their dog(s) out," wrote Lavrack.
When Covid-19 hit this year, Boyce Farms was ready to make a plan of action to stay thriving in the winter season. "We began making plans in the summer to talk through making it safe for customers by adding hand sanitizer stations, making masks available and encouraging social distancing and wearing masks as recommended/required under certain circumstances," wrote Lavrack. Boyce Farms has worked hard to ensure the safety of their employees and customers both while still providing a joyous experience. 
Luckily, even with Covid implications and unknowns, the farm was still busy but with a lot of customers buying trees relatively early in the holiday season compared to other years. "This year we noticed that a larger number of customers seemed to come out and pick their tree out early. This was a pleasant surprise as we began planning for the actual sales and volume side of the business in June and we weren't sure how Covid would affect things come November/December," wrote Lavrack. 
The Christmas Tree shortage of 2020 also threw some curveballs for the holiday season. The shortage is mainly attributed to a mix of Covid-19 and weather conditions. "The Christmas Tree shortage has cut back on the amount of business we were able to do; however, given Covid, there were unknowns that revolved around that as well," wrote Lavrack, staying positive in the midst of the shortage. 
"We open the weekend before Thanksgiving and generally stay open until the week before Christmas and/or sometimes right up to Christmas Eve. This year, again many people seem to be decorating sooner than in years past and our volume of customers continues to grow so we ran out of Christmas Trees sooner than we anticipated," wrote Lavrack. 
Many were ready to jump into the holiday spirit this year, eager for something to celebrate in 2020. Boyce Farms officially closed last Sunday, but still spreads cheer to the families who brought home trees this Christmas season.
Running a Christmas Tree farm is not an easy task, as countless planning goes into creating the full holiday experience for customers. "While we often missed musicals, some Christmas parties, a parade or two, working on the Christmas Tree farm was always our family tradition this time of year. Now that I am married and have 4 kids of my own it is just 'what we do' in late November and most of December. Now we are three generations continuing our tradition of working as a family to greet customers and do our small part of making Christmas special," wrote Lavrack.
Boyce Farms is a must-visit during the winter season. Whether it's for the Christmas trees, wreaths, vendors, or overall Christmas spirit and jolly employees, the farm has something for everyone. The wonderful community will never cease to put a smile on your face and warm your heart with Christmas joy.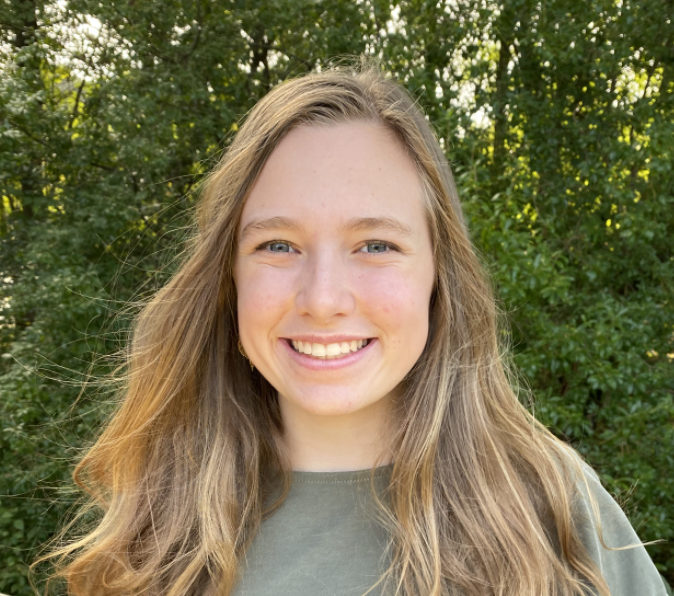 Hi! My name is Abigail and I am a senior editor for The Mycenaean. I am also a member of Leesville's cross country team and track team, as well as the president of National Technical Honor Society.