Contributors: Marie Cox and Ellie Bruno 
Megan Thee Stallion Calls Out Kentucky AG Daniel Cameron
Megan Thee Stallion used her "Saturday Night Live" performance to slam Kentucky Attorney General Daniel Cameron for his decision in the Breonna Taylor case. During her performance of her hit "Savage," the rapper and her dancers stood in front of a backdrop that read "protect Black women." About halfway through her performance, Megan Thee Stallion and her dancers paused as an audio recording from Malcolm X's 1962 speech "Who Taught You to Hate Yourself?" played in the background following gunshot sounds. At the end of her song, Megan Thee Stallion demanded the protection of Black men and women in the U.S. Read more about it here.
A Nobel Win For Science 
(Image courtesy of Niklas Elmhed/the Nobel Foundation)
On Monday, October 5, the Nobel Prize official Twitter announced that the Nobel Prize in Physiology or Medicine will be awarded to the trio of scientists who discovered Hepatitis C — a deadly virus spread across the world. Read more about the historic announcement here.  
Thomas Jefferson Byrd Shot Dead
Thomas Jefferson Byrd, known for his roles in Spike Lee films, died early Sunday morning. Police found the 70-year-old unresponsive with multiple gunshot wounds in his back at his home in Atlanta. Read more about it here.
#COVIDIOT 
(Brendan Smialowski / Getty Images)
Donald Trump is greeting crowds of fans outside the safety of his Walter Reed hospital room on Monday, sparking a firestorm on social media. Twitter users are roasting the POTUS with the hashtag COVIDIOT: As of posting this article, there are +5,000 tweets with heated discourse on both sides. Read the latest NPR updates on Trump's COVID conditions here.    
Lindsey Graham vs. Jamie Harrison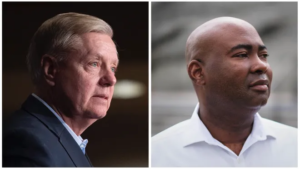 Lindsey Graham, the United States Senator from South Carolina, and Jamie Harrison, who is running for South Carolina's Senate seat, debated on October 4. They discussed topics like Coronavirus, racism, and the Supreme Court nomination. Read about the key takeaways from the debate here.