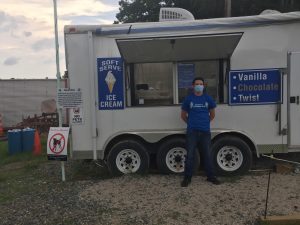 Snikroc Concessions is a popular soft serve ice cream place that has recently moved to Page Farms in Raleigh. 
It has already become an attraction for many ice cream lovers and has brought in not only many new customers for the business but also some from their old location in Apex. 
After the owner of the truck, Spencer Corkins, worked selling hot mini doughnuts during last year's pumpkin season at the farm, he wanted to do something more. "I decided to convert it into an ice cream stand and set it up during the strawberry season, then asked our family friend to set up here on our own hours, and here we are," said Corkins. 
Corkins explained that until September 20, he will be selling ice cream Friday through Sunday from 5-9 pm like usual, then between Sept 20-20, they move the trailer past the admissions gate to set up for the fall season. 
He will continue to sell ice cream Saturday and Sunday for the next two weekends, and then make the switch to mini doughnuts, which will sell on weekends until the end of October. 
There is a large tent with picnic tables set up just a few feet away from the truck, and visitors can sit there and enjoy. Many people will also tailgate in the parking lot. The happy atmosphere at Snikroc concessions invites people to socialize, enjoy some time outside, and allows people to social distance. 
One special thing about this stand is obvious Corkin's devotion and love of what he is doing. "I view it as if you work hard you get a reward, whether that's a paycheck at the end of the week or a smile on a customer's face," he said. "It's definitely worth coming back here next year for it."