Contributors: Keeli Johnson and Emma Nani 
Trump's Shocking Tax Returns 
(Photo taken by Gage Skidmore. Creative Commons)
After several years of speculation, President Trump's tax returns have been revealed. An in-depth New York Times article from September 27 reports that he paid a mere $750 in federal income taxes in 2016 and another $750 the following year along with other financial information from the past two decades. This revelation caused quite an uproar throughout the nation and especially on social media. Read more about it here.
BTS Topping Billboards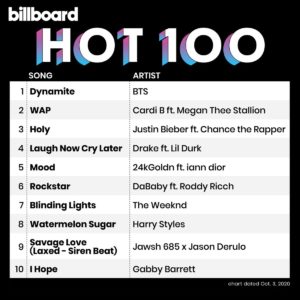 (Screenshot via Twitter, Photo Courtesy: Keeli Johnson)
For the third week in a row now, BTS tops the Billboard Hot 100 list with their song "Dynamite." They're also currently topping the Billboard Global 200 and the Billboard Global Excl. U.S. charts. "Dynamite" also serves its fifth consecutive week at No. 1 on the Digital Song Sales chart. See more here.
Amy Coney Barrett for Supreme Court Justice 
(Photo Courtesy of Rachel Malehorn)
President Trump has officially introduced Judge Amy Coney Barret to the Supreme Court as the successor to the late Ruth Bader Ginsberg. Previous to the nomination, Trump was rumored to have selected Barrett as his nominee. The choice has angered many Democrats over the controversy of whether picking a new Supreme Court judge before an election is ethical. Read more about the story here. 
Brain-eating amoeba found in parts of Texas
Governor Greg Abbot of Lake Jackson, Texas has declared a state of disaster after a brain-eating amoeba was found in the city's water supply. Advisories have been sent out for the county of Brazoria not to drink tap water after a 6-year-old boy died from the amoeba, Naegleria fowleri. Read more about the story here.
Kamala Harris visits North Carolina
Kamala Harris arrived at RDU Monday morning to make two speeches in the state of North Carolina. The Democratic vice president candidate spoke at Shaw University and White's Barber Shop to sway voters in the state before the election. Read more about her visit here.