Contributors: Chase Dutton and Dayna Wilkerson
A Ghostly Trend
(Permission of distractify.com)
Boo! Another Tik Tok trend has taken over this spooky season as people dress up in bedsheets and sunglasses while they pose in front of scenic autumn backgrounds. The ghost photoshoot trend is becoming one of the top trending hashtags of Tik-Tok — as the Halloween season rolls into the United States, so do the spooky trends that come with it. Learn more about this new trend here.
A Controversial Character
(Use by permission of clogdancer)
The actor Robbie Coltrane, who played Hagrid in the popular series Harry Potter, was under fire on Twitter these past few days — the actor defended author J.K. Rowling's seemingly transphobic tweets. Read more about it here.
Cancel Netflix???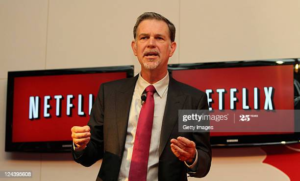 (Getty Images for Netflix)
Netflix is receiving heavy backlash from critics and the public over their new show, Cuties, where young girls are portrayed in sexual actions and dances — because of this the phrase "Cancel Netflix" has taken the internet by storm, with thousands of online users boycotting the famous streaming network. Read the full story here.
A Legend Laid To Rest
(Use by permission of Damian Vo)
Chadwick Boseman was buried at his family's church in South Carolina. He had a four year battle with colon cancer and succumbed to it on August 28, 2020. He will always be remembered and loved for the great things he did. Learn more here.
A Riot Causing Meal
(Permission of usatoday.com)
Celebrity and famous worldwide rapper, Travis Scott, recently paired up with the McDonald's company to introduce a new meal inspired by Scott — the Travis Scott Meal. This new item on the McDonald's menu caused a severe backlash in one store outside of Downey, California, where mobs of customers swarmed the restaurant in hopes to get their hands on the new meal. Fines were then introduced when customers and employees began rushing each other — all for a $6 burger, fries, and drink. Read more here.
Hidden Meanings
(Use by permission of Glenn Taylor)
Taylor Swift made her comeback to the American Country Music Awards after 7 years, singing her song "Betty" from her latest album Folklore. However, the song has more meaning than one may realize. Learn more here.