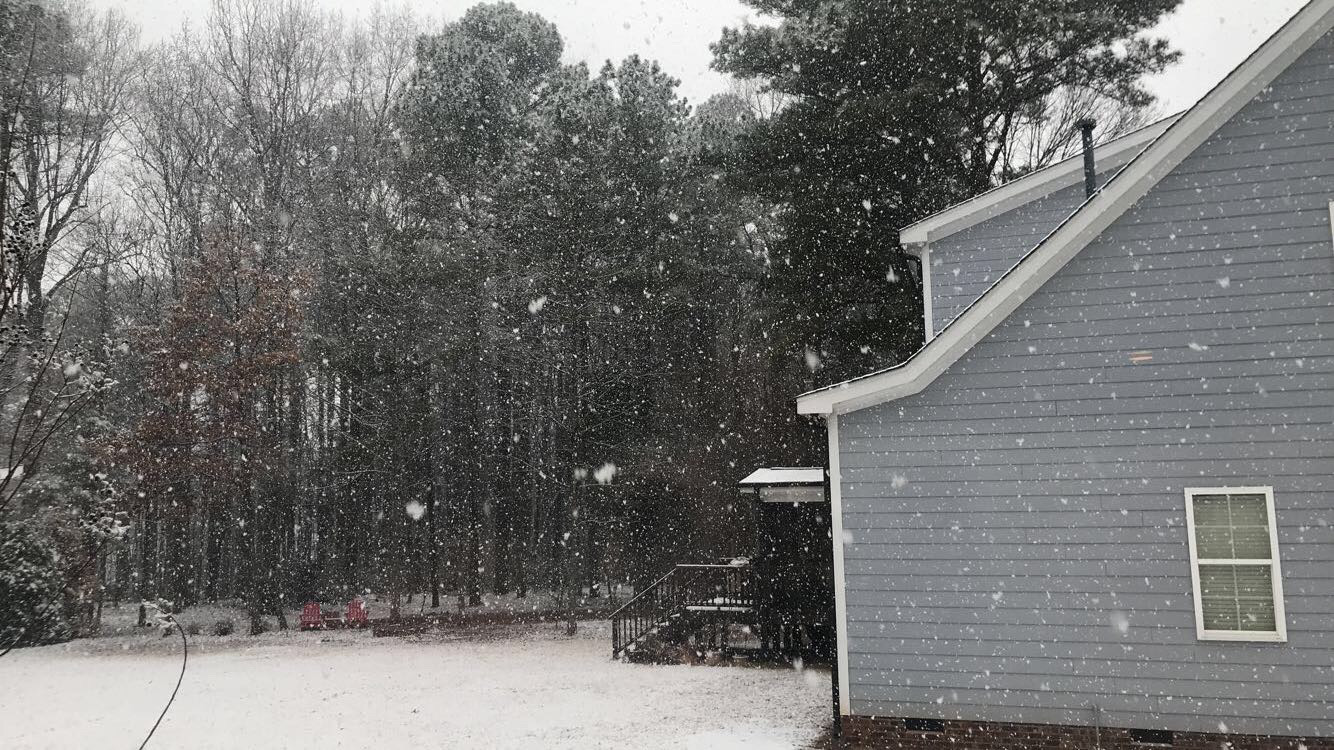 Winter offers so much from holidays to activities and even my birthday. Winter often gets a bad rep for "winter blues" but that simply isn't true. (Photo used with permission of Natalie Gore).
---
The holidays, New Years, snow and sweaters: Winter truly is the best time of year. Don't get me wrong — I enjoy a fun beach day in the nice sun just as much as anyone, but winter has so much to offer. You'd be ridiculous to think any season is better.
First off, the activities in the winter time are the best. Sledding, skiing, snowball fights offer the best kinds of fun for everyone. Some of my best memories are in the wintertime: making gingerbread houses with my friends and family, drinking hot cocoa and watching holiday movies. You can try and do these things in the fall, but you never get as much satisfaction as in winter.
Speaking of holiday movies, winter brings the best movies. I grew up watching 25 Days of Christmas and while some people don't celebrate Christmas, they still host just winter-themed movies such as Frosty the Snowman and Frozen. During the Winter and fall seasons, many well known movies specific to holidays or the season come into theaters and the two seasons are always compared. For example, In a poll of US families, 60% reported they watched at least one holiday or winter themed movie in 2018. In just Christmas specific movies, the top 10 highest grossing films all made more than 100 million dollars in the US alone. 
Furthermore, the lessons and messages in these winter movies stuck with me through most of my life. I remember watching the Polar Express for the first time as a child and even today the importance of believing in something no matter what it is. Even the Grinch taught me that there's more to the holidays than presents or parties. It taught me to enjoy my time with my family and to spend time with them doing things I'll look back on fondly.
These experiences of having fun with family or ice skating with friends creates a sense of warmth or happiness. These emotions boil down to a word called hygge, describing a moment of coziness that creates a feeling of contentedness. The word derived from danish roots and they used the word commonly through the winter to promote living in the moment and self care.
Many of the activities we overlook in the winter reflect hygge and the feelings it promotes. In fact, hygge is so evident in danish culture that Denmark is considered as one of the happiest countries. Denmark is a relatively cold country so if they can get through the winter and remain happy and cozy, I think we should too.
Many winter themed movies cater to a wider range of ages. In fall, the predominant genre of movies happens to be horror. While horror brings in lots of money, younger children tend to stray from many of those movies in comparison to a holiday movie. Many of these winter or holiday movies cater to children, and provide them with a positive viewing experience. Adults too are given many winter movies to choose from, falling in the PG-13 or R rated category. While there are some good halloween movies in the fall, winter offers so many different movies for all ages.
Aside from movies, you can't forget about the holiday music which brings Mariah Carrey and classic holiday songs. Spotify during the holiday season is my favorite, with remixes of popular songs like Feliz Navidad or Santa Tell Me. The songs just put me in a happy mood and most people I know love to listen to holiday music even before Thanksgiving.
Many people hate winter because of the cold. However, it's not always pleasant and sometimes you want to rock a pair of denim shorts or go to outdoor concerts. Yes, it has its faults but in the winter, you can always layer if you're cold. Layering clothes is also fun, and it gives me the opportunity to mix and match jackets and sweaters. Don't get me started on fuzzy socks, they are insanely comfortable and tons of cool patterns. They're hands down one of my favorite parts of winter.
Sese Jabir, a senior, loves winter just as much as I do. "Part of being Muslim is not being able to wear revealing clothing, so in the summer I get really hot, to the point where I genuinely don't want to leave the house. In the winter, I can wear as many layers as I want," said Jabir.
In the summer, I'm always frustrated because it gets so hot out and there's only so many layers I can take off. Even if I go out in a tank top and shorts, I still end up being hot. I've lived in the south my entire life and I absolutely hate the heat. I hate sweating and the worst part is when my car seats are insanely hot whenever I drive in the summer. When the temperature drops, I bring a cozy blanket in the car to keep me warm.
Many people think that winter brings low energy levels and a negative mood. However science recently proved that false with a massive investigation by Clinical Psychology Science. In their study, they found that there was no correlation to the wintertime being more depressing than any other season. 
In fact, the winter actually allows your brain to work more efficiently. In a study done by a group of neuroscientists, they observed 28 individuals and found that people felt the most depressed in the fall. Also, they tested brain vigilance and found it to be lowest in the winter. Surprisingly, that's actually a good thing, because the better you get at a task, you have less brain activity.
In the winter I get better sleep, and it all comes down to the temperature of my room. In the winter, keeping my room cold is insanely easier. Huffington Post reported that sleeping in a hot room increases wakefulness and decreases deep sleep. In the summer, I have three fans going at a time just to keep me cool, and even then I never feel cold enough. 
Spring and fall definitely do not compare to winter. The pollen and the rain in spring makes going outside irritating. In the fall, it constantly shifts from hot to cold. Why can't it just choose one temperature? It's cold in the mornings and then hot in the afternoon, how do you decide what to wear? At least in summer or winter there's little variation.
Winter offers tons of fun for people of all ages, and with science to debunk the "winter blues," it proves just how fun winter really is.