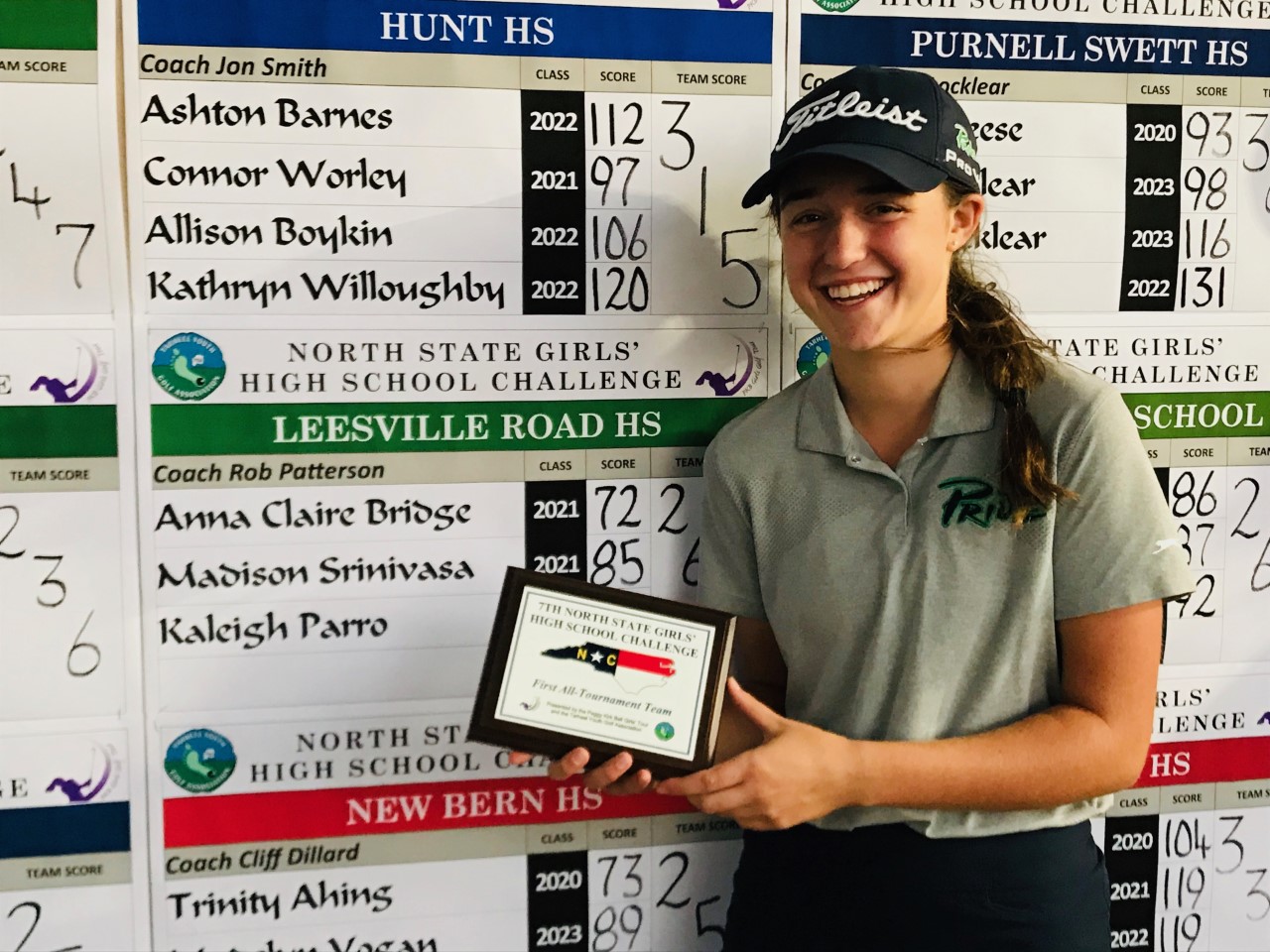 Anna Claire Bridge holds up her plaque for the "North State Girls Challenge" match, holding the best score for the Leesville girls, with a low score of 72 for the 18-hole course. (Photo with permission from Anna Claire Bridge)
Leesville High School's women's golf team has been around for a while, featuring success in high school and in committing students to teams in college. This season, the team is second in the conference and will advance to the state playoffs. It has taken a lot to improve as a team through the years, losing and gaining valuable players to make the current eight-girl varsity team.
One notable example of success from Leesville's golf team is Mogie Adamchik, who after playing in high school, went to play for the Appalachian State golf team. As a high school senior, she had a low 9-hole score of 36. She is currently a sophomore on the Application State team, with a season 9-hole average of 37.7. The Leesville golfers hope to find the success that Adamchik found, working hard to improve as the season continues. 
Many of the current players are set up for success, individually earning awards such as "Player of the Match", and as a team, going on to place second out of seven at their Cap 7 matches, as well as eleventh out of twenty in their non-conference "North State Girls Challenge" match. 
Anna Claire Bridge has won five "Player of the Match" awards so far this season. Bridge has been a part of the Leesville golf team for all her high school years. She found success with a season low score of 33 for nine holes on the Wildwood Green Cap-7 course and a score of 72 on the 18-hole course for the North State Girls Challenge. "I love competing. I love going out there and being able to play for the pride. It's such a cool experience to be in a team environment because it's something that you don't get to experience playing individually," said Bridge. The golf team is all about teamwork, according to Bridge. "We have a great team this year, [we have] really good chemistry together, always having a great time at practice, smiling [and] laughing."
Another valuable player, Madison Srinivasa, has also received a Player of the Match award this season at the Hedingham Cap-7 match with a low score of 37 on the 9-hole course. Srinivasa has been playing competitively for four years, able to grow with the team throughout the past seasons. "I really like the program we have. I really enjoy meeting new people and the hours we play," said Srinivasa. 
The team usually practices three times a week (Tuesday, Wednesday, Thursday). They often have matches during the week and weekend, mostly either on Monday or Tuesday. "We have a schedule set up with the golf course," said Coach Rob Patterson, the third-year golf coach at Leesville. "The hardest part is for the players to get out of the parking lot at school." The golfers participate in around five or six matches per month, usually playing in groups of threes or fours. 
This year's starting girls have played varsity for the past three years (since Leesville golf started), according to Patterson. "They keep getting better each year," said Patterson. "[My favorite part of coaching is] watching a student athlete grow as a person, not just as an athlete."
The players are often supported by their family members and previous students and golfers. "Usually we have some parents, coaches, sometimes some friends or other teammates come out and watch and support so it's really nice that we have a little crowd following us," said Bridge. Bridge is grateful for all the appreciation from her friends and family. Since the team does not play at the school, it is often only close family members and friends who attend the matches. "We have a Twitter page, LRHSpridegolf, so it's nice to have somewhere to post some pictures to be able to share with all our fans." The Leesville women's golf team hopes for future support from the students, excited for their upcoming Cap-7 matches and state playoffs.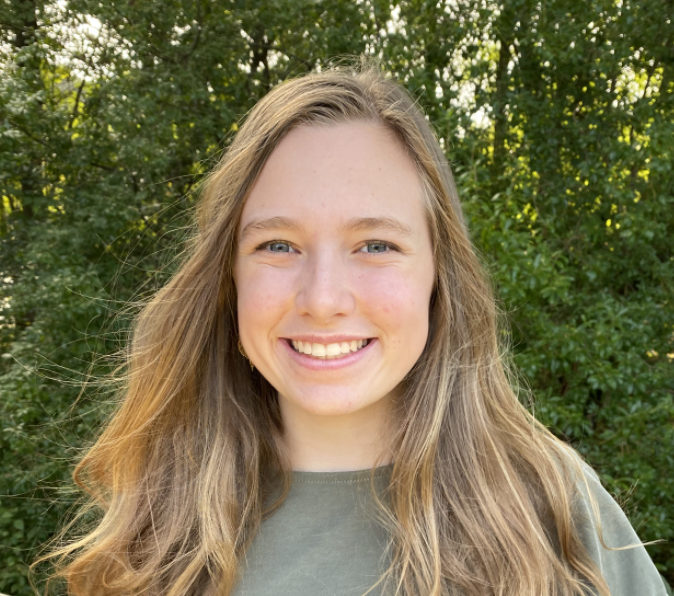 Hi! My name is Abigail and I am a senior editor for The Mycenaean. I am also a member of Leesville's cross country team and track team, as well as the president of National Technical Honor Society.