When I was a freshman, I would always look forward to picking up the newspaper outside Mr. Broer's room, and in my spare time, I would scroll through the newspaper website and read the articles posted by newspaper students. For some reason, it didn't immediately occur to me that it was a class–I always assumed it was a club, or just a gathering of students that got together and decided to write some articles. 
Class or no class, I was curious about how it was done. What went into writing the newspaper? How did each student write their articles? I slowly gained more information.
Being in Broer's English class freshman year helped–I knew he was in charge of the newspaper, and I became accustomed to being exposed to small hints of the class. The newspaper kids were always the rowdy ones that ate in his class during lunch–I never thought I'd be one of them. I applied for newspaper at the end of freshman year and managed to get in. 
Still I wondered–what exactly happened in that class?
I soon learned that being a part of The Mycenaean staff was both less complicated than I thought it would be and far more complicated than I had presumed. My first day was chaotic–a flurry of information was thrown at me, and there I was, dumped into the class with no experience whatsoever. I learned what happened in newspaper, and I learned quickly. If you're like the freshman version of me, and you have no idea what happens in newspaper, this is for you–a peek into the world behind this article. 
Before I go into detail on the process for writing an article, it's best to talk about how the class is set up. In newspaper, there's a hierarchy of sorts. Broer is at the top, of course, but his role is minimal. Lucy Leen, the editor-in-chief, is the next level down. She said she's "pretty much… in charge of the class. He's our advisor, but I'm supposed to be the head of all production." Next comes editors. Leen and Broer are included in this, since they edit articles, but only students create content. Each editor is assigned three students whose articles they edit- Leen and Broer are assigned five. Next comes the staff writers–they don't do anything other than creating content.  
The basics of the class are simple–putting out articles for students to read. The process is different for every person, but it's relatively simple. As with any project, you first start with an idea. The entire class has a multitude of documents shared with them–one of them is a spreadsheet. Different positions have different documents, but the entire class can edit a spreadsheet that includes article topics–topics ranging from "Why schools should teach more Black History" to "VSCO girls". It can be entertaining to watch the spreadsheet grow over the course of the year, and even more so to see how students can turn a seemingly silly idea into a well-written article. 
Next up in the process comes research. This almost always involves an interview, but there are exceptions–reviews, or other opinion pieces of opinions from the writer. An interview in newspaper is the same as any other–thinking of questions, tracking down the interviewee, and conducting the interview. Newspaper students are generally free to leave class to conduct interviews, provided they can be trusted to actually do so. Once they've found out where the student they're interviewing will be, all that's left to do is go to their class and interview them. They start with a simple question–"Do I have your permission to record this interview?" This guarantees they can't later get in trouble for anything related to recording the conversation on their phone.
Once they've got all the information they need– which sometimes involves something other than an interview, like a google search–the biggest step in the process is actually writing the article. To most students this seems daunting, but once you're started, it gets a lot easier, especially if you're familiar with your topic. 
Next up is editing. As mentioned earlier, every staff writer is "mentored," in a way, by an editor. Throughout the semester or year, the editor will edit their articles, give them tips, and provide advice on how to become a better writer. In the short-term, though, the only thing they do beyond creating content is editing. Editors will make comments on grammar, sentence structure, word choice, things to add, or things to take out. This means they have a larger workload, but that comes with the experience. Once staff writers have corrected these edits, the editor will move the article into Broer's folder in Google Drive. Like the spreadsheet, Broer's folder is part of most newspaper students' Drive, but unlike the spreadsheet, staff writers can't access it–not that they'd have any reason to. From there, Broer edits the article and returns it to the staff writer, who corrects HIS edits and then lets their editor know that they're finished.
At this point the process is pretty much done for the staff writer. The editor posts their article on the Mycenaean website, allowing anyone who wants to read it. The staff writer feels a sense of accomplishment–a very brief sense of accomplishment, though, since there's no break in between articles. As soon as a writer finishes one, it's on to the next. The process starts again. Despite every student working on at least one thing at any given moment, Broer's class is never quiet–editors talking to staff writers, students talking across the room about class jokes, or Broer simply asking to be left alone. 
It's a fun environment behind the scenes–one I'd never experience outside of newspaper.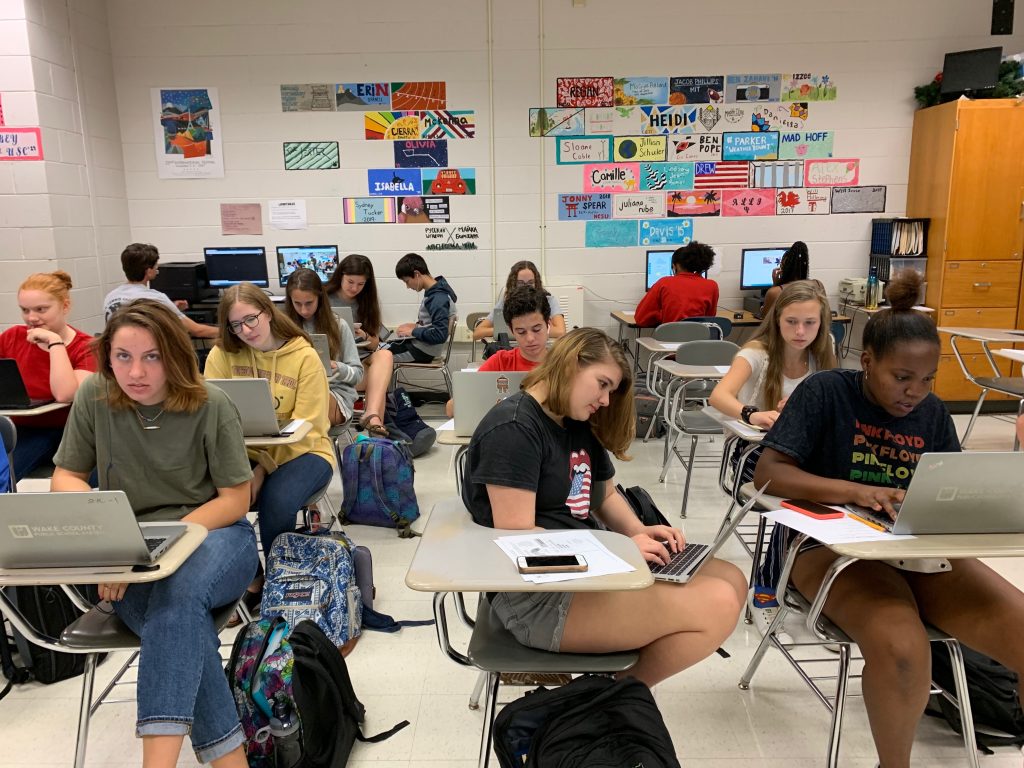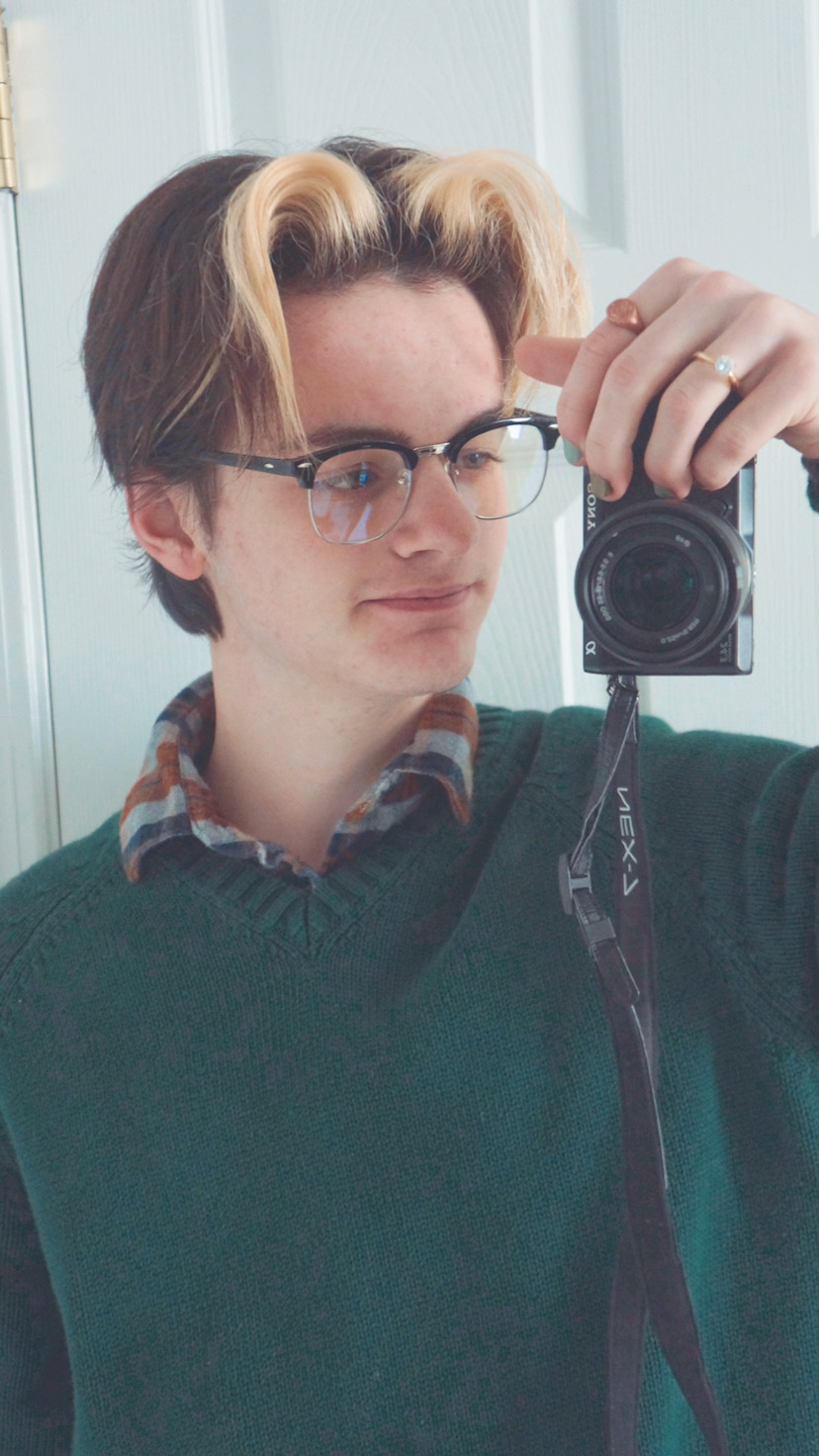 Hi! My name is Brendan Shore and I am a staff writer for The Mycenaean. I am an avid photographer and rock climber!