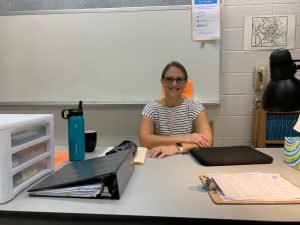 The Latin Club held its first interest meeting on September 16 and is ready for a new batch of students to join the club and dive into the Latin language. Meetings are on every third Monday, and they are accepting new members if anyone still wishes to attend. The Latin Club has endured the changing school for a very long time, since the school was founded in 1993, and the club has been active and receiving new members ever since. Carrie Mash started teaching Latin in 2006 and has remained here with the Latin club and classes with her husband, Mark Mash, in the next room. "We have scrapbooks going back to the very first year," said C. Mash. Both are Latin teachers and co-advisers of the Latin club. 
The Latin club offers all sorts of members who hold any type of skill level. The best part about it? Students don't even have to be in a Latin class. "You don't have to be in Latin if you're just interested in the club," said M. Mash
The club basically entails a more fun take on the Latin classes, such as having field trips every so often, and taking a more in depth dive into the ancient Latin culture. They also teach student leadership and get people excited for Latin club and classes. 
There is even a national Latin exam that the Latin club attendees will take if they stick with it for the rest of the year. This won't seem to be a problem, since the interest meeting went so well. "It was very popular … for the twenty minutes that we had, there were a lot of students," said C. Mash.
In future meetings students can expect a lot more from the club like service meetings, field trips, and a bunch of new announcements and business transactions to be made. "Some of these activities take place outside of school, the club is more for learning dates for which we will take field trips, service projects, that kind of thing. Some students would think 'Why did I go to that meeting' but if they want to participate, in addition to going to the meetings they also have to do things outside of the club that they are assigned to do." C. Mash said. 
There will also be a lot of in class activities and other fun things to experience in the Latin club. "We will have service projects throughout the year, we will celebrate Roman holidays, we will also talk about activities that transfer from outside the classroom to the inside of the classroom," M. Mash said.
The Latin club's first meeting was an overall success. It was popular, they planned fun field trips, and the club co-advisors were happy with the result. "We had a lot of people so we split up into different classrooms, we had food, we did a Kahoot, we started our first service project, so we're off to a good start!" said M. Mash. There will be another meeting on October 13, and they expect to see everyone there.