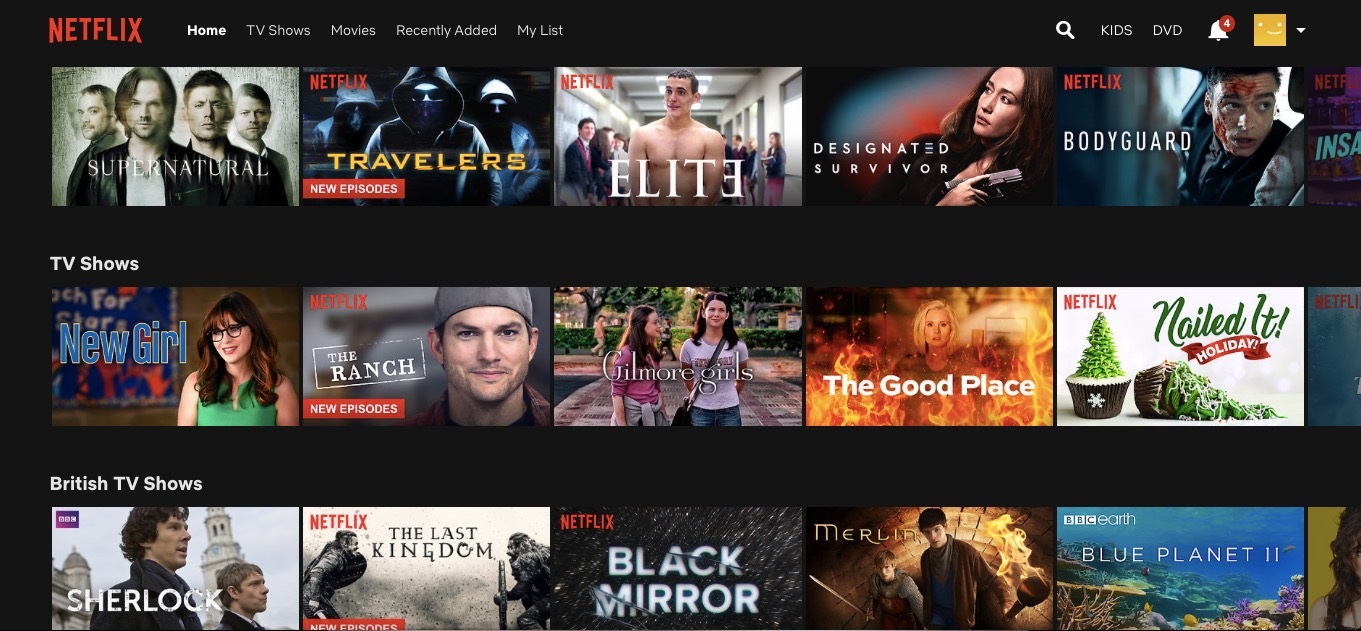 Netflix is one of the premiere websites for watching old television shows that have maintained a cult following throughout the early 2000's and 90's. Over the past couple years, many teens have flocked to shows like The Office and That 70's Show, making older TV shows more popular and generating lots of money for streaming services. The company recently experienced backlash for scheduling to remove the popular sitcom Friends off of their website. This later changed due to a massive outcry on social media to keep the show on, and according to multiple sources such as Recode and The New York Times Netflix spent  $100 million to licence Friends through 2019.
However during the online fiasco, many shared their support for the removal of the show to let in new shows. The cancellation of popular netflix series Sense8, created drama for fans as it was announced the sci-fi show, which was in its second season, would no longer continue. When news broke out on Twitter, fans took to share their frustration saying that to keep Friends allows "bland comedy" to remain.
Netflix originally posted Friends on their streaming service back in 2015, and with the show being on Netflix for now three years, is it worth keeping it on Netflix? Even though Friends is a beloved show to many, the continuation of Friends makes it unlikely for some shows to continue. The extreme lengths Netflix has to go to license a show like Friends means other older popular shows such as Seinfeld or Boy Meets World, will not see the streaming service any time soon.
This fall, three Marvel tv shows were canceled, including the popular show Daredevil, which fans are now calling for a movie to be picked up either by Netflix or Marvel. The shows which have good reviews from both critics and viewers, reinforces the idea that it is time for Netflix to shift and bring in other tv shows to provide viewers with new options. Netflix has also picked up old shows or canceled shows from tv networks and moved them to the platform where Netflix will continue to make new seasons and keep the show running. This includes shows such as Fuller House and Designated Survivor where the fanbase for the shows showed positive reactions to the series on Netflix.
If Netflix continued to do this more frequently, many viewers who do not have a subscription would invest in one to continue watching their show. The rise in subscriptions would give Netflix the money back on the shows they license, as Netflix is already dealing with debt.
Netflix could find opportunities to profit over other tv networks mistakes. Many tv channels have tried to recreate or re do new episodes of beloved classics from the early 90's and 2000's. TV channels such as Disney have recently decided to revamp old shows, for example Kim Possible, which received heavy negative reviews when the trailer was released on YouTube for awful graphics, cheap costumes, and bad acting. As an alternative, fans are calling for the option to have the original episodes posted on Netflix along with other popular Disney shows such as Hannah Montana.
The benefits for posting the old Disney shows instead of keeping a sitcom like Friends on Netflix, allows fans of the Disney shows a website where all the content is available. By giving those fans a place to watch those shows, fans would consider investing in Netflix more often. While Friends is a beloved show to many, Netflix would receive just as much hype for the introduction of early 2000's classics. The popular shows teens watched as children are difficult to find online, and most do not rerun on tv anymore, so if Netflix was to introduce other tv shows, millions of fans would tune in to watch daily.
This would also benefit many other networks who have seen negative reviews on the idea to re make old shows. Instead of wasting money on a sequel which will be disliked, they [broadcasting companies]  would gain money from Netflix to acquire the rights to post the shows. Instead of spending extreme amounts of money on just one series, Netflix can add around two or three new shows for subscribers.
Another option if Netflix believes that it is too expensive to license even more shows is the popularity surrounding the new Netflix Originals. Netflix has seen huge success recently over the creation of many Netflix Original movies and TV shows, like the ever popular teen romance movies such as To All The Boys I've Loved Before and The Kissing Booth. Creating more of these original movies and shows is not only cheaper for Netflix, as there's no need to license millions of dollars, but that they ultimately do very well. Besides getting views, the originals also have gained recognition from the Emmys and the original movies eventually could become a strong contender for winning an Oscar.
Ultimately, Netflix has multiple options in alleviating the debt and gaining more subscriptions. With the expense of such a show like Friends, no matter how good it may be, has had its run on Netflix that it is time for new shows and movies to come out on the platform. Hopefully with 2019, Netflix is able to provide more shows and more content to all viewers everywhere.