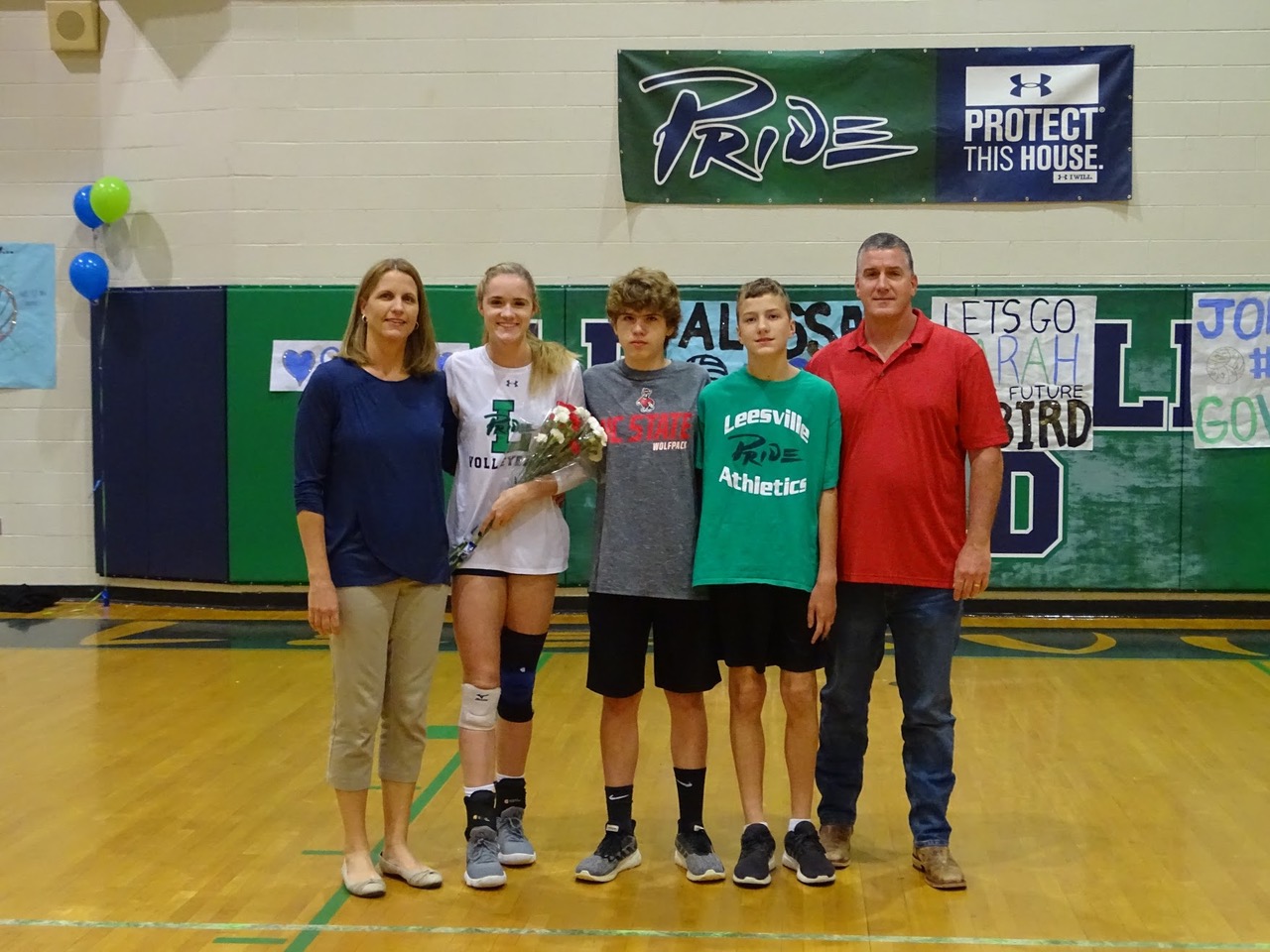 Freshman year. Sophomore year. Junior year. Senior year—parking in the senior lot, making plans for the next year, Homecoming, Prom, the Senior Assembly, the Senior Picnic, and, finally, graduation. Most Leesville Road High School students follow this progression through high school. However, according to Leesville's Dean of Students, Eric Greene, about 30 Leesville seniors graduate annually in December, six months before their peers' graduation, and this school year, five Leesville students will graduate after only three years in high school.
Why Graduate Early?
The decision to leave high school early and to enter another phase of one's life is important; thus, students who choose to graduate early from Leesville often have valid reasons for doing so.
Daniela McDonald, a Leesville senior planning to graduate high school this December, announced last fall that she has committed to play Division I volleyball for North Carolina State University. In April 2018, she suffered a knee injury and, for a time, could not play. This incident prompted NC State to suggest to McDonald early graduation from Leesville.
"In August, NC State approached me, and they were like, 'Hey, we really think it would be a good idea if you graduated early because we really want you playing in the fall, and we know you're coming off this injury,'" McDonald said. "It's not that they didn't want me to get hurt again, but they thought that I'd get better benefits by being able to see their doctors.…They can monitor my health and all."
Besides beginning to practice with NC State's volleyball team, McDonald will have a head start on her academic career. She plans to become a vet, which requires eight years of schooling: four years in an undergraduate program and four years of veterinary school.
Another Leesville senior, Tegan Byers, intends to graduate from Leesville in December to make progress toward her undergraduate degree. Starting in January, she will take classes at Wake Technical Community College, and she will enter a four-year university in fall 2019. Byers will use the credits she earns at Wake Tech toward her bachelor's degree.
"I chose to graduate in December so that I can start classes at Wake Tech and get some of my [general education requirements] out of the way before I go to a university," Byers said. "You get the education for cheaper at Wake Tech, and then you already have some of your general courses before even going into a university."
Ryan Flynn, a junior at Leesville, plans to graduate in June with the Class of 2019—a whole year earlier than most current juniors intend to graduate. In fall 2019, Flynn hopes to enter a four-year university where he believes his time will be better spent.
"I don't feel like staying in high school is a good choice for me as I feel that a lot of time is being wasted through things such as review," said Flynn.
What It Takes to Graduate Early
Most students would expect the early graduation process to be complicated. However, McDonald and Byers find it to be quite the opposite. For both seniors to graduate in December, they simply had to fill out forms declaring their intentions and ask their counselors and AJ Muttillo, Leesville's principal, to sign them. They also had to take certain courses that they need to fulfill graduation requirements during the first semester of their senior year. Neither student had a problem with this obligation since they only need to pass English IV and Civics and Economics to graduate.
Flynn, on the other hand, had to take a few extra steps to ensure that he will graduate next June. Wake County requires graduates to have completed 26 credits, but on completion of this school year, Flynn will have only completed 25. Thus, he needed to enroll in night school at Wake Tech to fulfill that one last credit.
"I had to apply for night school for one class," Flynn said. "That was a pain in the butt, which involved even more paperwork and more signatures from everyone."
Along with taking one course at Wake Tech, Flynn has several more graduation requirements to fulfill. As a result, seven of his eight classes at Leesville this year are core classes, a hefty workload for any student.
Despite his rigorous schedule, Flynn believes that his college applications will not compare to those of many top students because he will not have a fourth year of high school to take on leadership positions and to enroll in more advanced courses.
"My applications aren't going to be as strong as most people's because most people do a ton of AP and Honors classes during their junior year, and then during junior and senior year, they become the leaders in whatever clubs they have," said Flynn. "Since I'm graduating early, I don't get any of that, so I have to do it based purely on my academics and anything I do on the side."
In contrast, both Byers and McDonald have found their college application processes relatively normal. Although she has already committed to NC State, McDonald still needed to formally apply for admission. She will be enrolling in winter 2019 instead of fall 2019, so NC State required her to turn in her application earlier than usual.
"I had to go ahead and fill out my application for college like most people, but I had to turn my application in a little earlier," said McDonald. "[The college application process is] basically the same. You still go through the Common App., so I had to do everything that most students are doing right now but just earlier."
Student Concerns
The decision to graduate early is a significant one that can have lasting repercussions, so naturally, Byers, McDonald, and Flynn do share some worries. Nevertheless, NC State's volleyball coaches are working to ensure that McDonald's transition to the university is as smooth as possible.
"I'm just worried I'm going to get lost on the campus or something," McDonald said. "My coaches have helped me out a lot. I already know where I'm living, and who I'm rooming with, so basically, they've taken all the pressure off of me."
One concern that many students would have about graduating early involves missing out on the "typical" high school experience, which includes having a senior year filled with events such as Prom, graduation parties, graduation itself, and other graduation-related festivities. Because of these events that characterize any typical high school senior's spring, McDonald initially decided not to graduate in December.
"I had a lot of trouble deciding to leave my house early, leave high school early, just because I didn't want to leave my friends," said McDonald. "I wanted to have that full high school experience, so I definitely struggled with knowing that I wasn't going to get that full experience."
But McDonald, Byers, and any other mid-year graduates can still attend Leesville's Prom and walk at graduation in June if they please; this option alleviated McDonald's worries about graduating early.
As opposed to McDonald, Byers did not stress over missing those classic end-of-year events, especially Prom.
"Not really that worried about Prom. Been there, done that, and once was enough.…I'm ready to go on to other things," said Byers.
Flynn similarly does not worry about missing out on the "typical" high school experience. Since he started high school, these types of events have never exhilarated him, so he has no qualms about missing out now.
"I don't really get excited about much, and it makes it so all these spirit things and all of the events don't really resonate with me," Flynn said. "I'd much rather take a nap than go to Prom."
Byers, McDonald, and Flynn's decisions to graduate from Leesville before their peers are significant choices. Like with any major decisions, they hope that they will not regret them. Despite the concerns that she had at first, McDonald is now fully confident in her choice. She understands that though graduating mid-year may seem like a sacrifice in some ways, it will ultimately benefit her.
"I think it's going to help me in the long run. I'll get ahead in academics, and I'll get the training I need for volleyball," McDonald said.