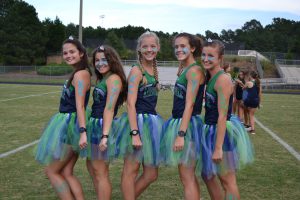 Day 53, hour 3, 39 minutes, and approximately 23 seconds into senior year. It's been roughly a month and a half since my first entry. I wouldn't say that I have hit senioritis yet, but I'd be lying if I said I was a motivated and ambitious student.
I've got to say, senior year has been pretty fun so far. I've found myself going to football games that I normally would have missed, I dressed up for spirit week, and I embody more school spirit than I have in my last three years at Leesville combined.
While my motivation for being more involved in school has increased, the same cannot be said of the work for my classes.
I've gotten into the bad habit of not doing my homework and justifying it by saying that it's senior year. To make matters worse, instead of being productive with the extra time given in class to do work, I've found myself putting my head down and trying to sleep for a few minutes
I have to admit though, even though I started to take on the bad habits of a senior, the first time it really hit me that it was my last year at Leesville was during senior night for cross country. For the past three years, I had always been the one holding my hands over the tunnel as the seniors ran through in their tutus, making posters and decorating the track for them, and being paced by them during the race. As I ran through the tunnel, wore that tutu, and paced the younger kids on the team, a wave of nostalgia hit me knowing this was the last year I had with this incredible group of people.
The little senior traditions really sets senior year apart from the others. Decorating senior crowns was my favorite of these, I finally got to execute the plan I'd been thinking about since my brother was a senior. Wearing our crowns on the last day of spirit week really brought the experience to life as all the juniors, sophomores, and freshman commented on and admired them as we floated through the halls.
Being a senior means figuring out a plan for after high school. Two days ago, at about 3:30 a.m.– in a wave of panic– I woke up and realized that the November 1 deadline for applying to college was close. Very close. Too close for comfort considering I haven't finished three essays let alone finished filling out the common application.
I have no motivation at all, but I somehow manage to get things done on time; I can only hope the same trend translates when I apply to college.
Until next time– Hannah.