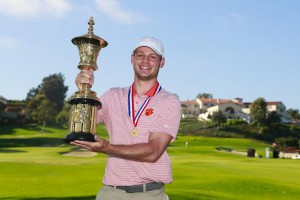 It came down to the 37th hole.
Doc Redman, a Leesville alum and current sophomore at Clemson, competed in the final of the U.S. Amateur Golf Championship at the Riviera Country Club in Los Angeles.
After 36 holes, he tied the score with Doug Ghim, a senior at Texas, and the match went to extra holes.
To force the playoff, Redman delivered crucial shots to stay alive, facing elimination multiple times late in the match.
The late game pressure did not faze the seasoned 19-year old. He always tries to embrace the saying ""pressure is privilege," a common expression said among him and his Clemson golf teammates.
"It was a privilege for me to be there and to have the pressure on," said Redman.
Like an experienced pro, Redman sunk a 50-footer for eagle on the 35th hole and hit a center-cut putt on hole 36 to set him up for birdie, sending the match to extra holes.
Then, on first playoff hole, he finished with a birdie, putting him in good position.
Doc watched as Ghim hit his ball into thick rough and then into two bunkers. Knowing he couldn't win, Ghim conceded Redman's birdie to end the championship.
Going from being the 70th ranked amateur golfer in the world to U.S. Amateur champion brought more fame to Redman's name. However, he just simply enjoyed the moment, like any other golf tournament.
"I loved every minute of it," said Redman. "Whether I had won or lost, it would've been a great experience."
But before his elusive amatuer title win, Doc was just a regular kid, growing up in the tightly-knit Leesville community.
Success at a Young Age
Redman spent his pre-college life in the North Raleigh area, living in the same house with his family. He started at Leesville as a sophomore, after he spent his freshman year at Cary Academy.
Around the age of three or four, Doc was first motivated by his dad to start playing golf. He and his father would go up to Prestonwood Country Club in Cary to just casually practice, hit balls and mess around.
Eventually, Doc became more dedicated to the game and began to improve and excel.
"I think I just started to take it a little more seriously," said Redman. " I focused up and just practiced."
From there, there was no looking back for Redman. He played in many big international tournaments as a teenager and competed against the likes of Grayson Murray and Carter Jenkins, both members on circuits of the PGA tour, and Leesville alumni, regularly at Wildwood Green Golf Club in North Raleigh.  
As a high school freshman, Redman attended Cary Academy and placed thirteenth at the NCISAA 3A State Golf Championship. Then, he moved to Leesville at the beginning of his sophomore year, golfing under Andy Hunt, boys golf coach at the time.
His junior year, Redman began to lead the team to success at the state level. The Pride finished sixth at the 4A state championships, and Redman placed second as an individual, just two shots behind the winner. He also finished as the runner up at the 4A Mideast regional prior to states and was named a Rolex Junior All-American Honorable Mention.
Redman was finally able to finish on top as a senior, winning the regional title as well as the state championship, shooting nine-under-par to win the title. Leesville also made its second straight appearance at states as a team, placing sixth.
Not only was Doc a top player at the state level, he was also a respected player on the national stage. He was ranked the eighth overall golf recruit in the Golfweek Junior Boys rankings in 2016 and was recruited by many top programs.
Coach Hunt described Redman as one of the best golfers to ever play at Leesville. He said he has a phenomenal combo of talent and skill, almost a mixture of Murray's and Jenkins' games.
"He's very creative in what he does around the course to make shots and just score well," said Hunt.
However, even with all he accomplished as a top prep golfer, Redman always put the team's success before his own. Hunt said most people would never know how successful of a golfer he is just by talking to him.
"He's the most famous guy that you never know about," said Hunt. "He's a very down-to-earth guy."
Redman expressed this idea himself, emphasizing how much he enjoyed Leesville's team environment each day. "The most special thing was just being around the guys on the team and traveling with them and competing with them," said Redman.
Standout at Clemson
As one of the best golfers in the nation, Doc was recruited by many different colleges with respectable golf programs. Many thought he would attend a school in North Carolina, so people were surprised when he decided on a school in a small college town in South Carolina.
He ended up signing with Clemson, due in part to the university's academic reputation and especially the golf team's welcoming environment.
"[The coaches and players] know a lot about the game," said Redman. "They also really take you in as part of their family and make it feel like home."
Going into his freshman year at Clemson, Doc realistically just wanted to be a productive member of the team but ended up surpassing his goals. He was named a third-team All-American by Golfweek and a first-team Freshman All-American, as well as a member of the All-ACC team and Academic All-ACC team.
Redman enjoyed his season this year and hopes to continue having success at the the collegiate level down the road.
"I just wanted to improve everyday I was here," said Redman. "It ended up pretty well and I had a good season."
Leesville for Life
Redman still embraces his Leesville roots, keeping in contact with many of his old friends, teachers, and coaches. He even talked to Dr. Muttillo recently about his success in college.
"It's hard not to keep in touch with the great people you meet." said Redman.
Looking back on his Leesville days, he said what really stands out to him is meeting and interacting with different people each day. Doc also likes to keep tabs on the successes of other athletes he attended school with.
"[Leesville] had a lot of successful athletes," said Redman. "It's fun to see them be successful as well."
As for the rest of his college career, Redman hopes to embrace all of the little moments. With his U.S. Amateur win, he has exemptions into the 2018 U.S. Open and 2018 Masters. He also was selected to be part of the 2017 Walker Cup Team, the first Clemson golfer to be named to the team since 2007.
"I just want to be successful in those and make some cuts and have some good finishes." said Redman.
After college, Redman desires to play golf professionally, something he thought about extensively as a teenager. "Hopefully a little farther in the future, [I can] get onto the PGA tour and establish myself there," said Redman. "Just see how good I can get."
However, no matter where golf takes him in the future, the 2017 U.S. Amateur Golf Champion will always have a special connection with the Leesville community.
"I think Leesville is a great place, and it's a great school," said Redman. "Just the whole  experience was really fun.