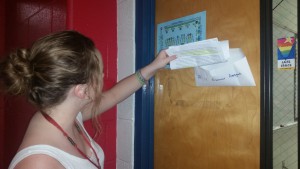 One of the worst parts about taking an AP class is the summer assignments that come along with them. From the dreaded 5-10 page long AP Environmental Science papers to reading and annotating a book for AP English, they seem to put a bad feeling in students minds about the class before it even begins.
With summer officially over and all summer assignments turned in, a fair question to ask is: How do teachers feel about assigning work to be completed over the summer and what are the reasons behind why they do?  
Two arguments can be made about summer assignments. The first is that they contradict the ideology behind a two-month break after the ten months students spend in school. The second is that is that they are beneficial to the student in order to jog their memory about forgotten lessons.
Yvonne Anderson, AP English teacher, said, "I think that throughout the summer a lot of the academic skills that students have practiced throughout the year are lost. There is a fair amount of research that shows that those skills need to be constantly practiced and summer assignments give you that opportunity."
Students usually have an idea in their mind that all teachers like to require their students to complete an assignment over summer break. While AP teachers typically do have some form of work to be completed, it doesn't necessarily mean that they want or like to.
However, that doesn't go for all teachers. Some teachers who do assign work truly believe that they are doing it for the best of the students.
Kimberly Arwood, AP Calculus teacher said, "There are a lot of prerequisite skills that students need to be fresh on and to be able to do easily and quickly. [Summer assignments] give them the opportunity to review some of those skills that maybe they haven't seen in awhile. So it gives them a chance to review those skills so that they can start the course ready."
Typically, most students view summer assignments with a pretty negative point of view — thinking they are annoying and a waste of time that should be spent enjoying their break before going back to school in the fall.
This argument can seem somewhat whiney, but there is some truth to it, especially if a student doesn't complete the assignment the way the teacher intended for it to be done.
Timothy Wareham, Civics and Economics teacher, said, "I think there are two aspects [to summer assignments] that are negative: Often summer assignments are to be done individually and there's no opportunity to discuss the material, so they're not going to necessarily be as memorable. The second thing is that because they're summer assignments, you might not have contact with the teacher. If you do something wrong, there's not an opportunity to recognize the mistakes while you're going through the process."
Many students takes two to three AP's a year and a few exceed that boundary. To be accepted into a college, you have to meet a certain GPA requirement. If a student feels they need to bring their GPA up in order to be accepted into their dream college, they will probably feel more compelled to take them– ultimately landing them in a pool of summer work.
Part of the argument supporting summer assignments is that it's the student's understanding that they will have summer work to complete when they sign up for an AP class. While this is true, a student may not be willing to take a class below their ability level just to avoid doing the summer assignment– forcing them to take the class and spend the last weeks of their summer working on the various obligations.
Some teachers make their assignments fairly accessible for students to complete with the understanding that they need a break. "[Summer assignments] need to be equitable across the subject and they need to be short enough that they aren't too time consuming," said Anderson.
Teachers believe that whether or not you decide to take an AP level class should be based entirely on your ability and not by whether or not you want to complete work over the summer. Most teachers choose to make their assignments short enough. So the next time you look at your teacher as the bad guy for giving you work over the summer, think again because they do it with the intention of helping you do your best in their class.