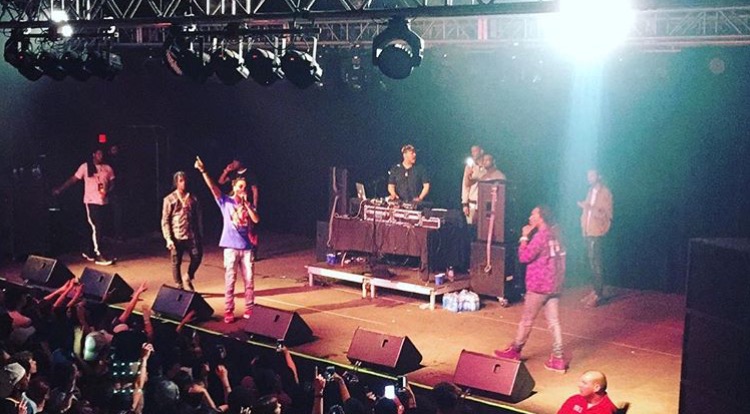 On Tuesday, March 8 at 8:00 p.m., Migos took on North Carolina at The Ritz in downtown Raleigh.
Migos is a well known trio in the world of hip hop. The group members go by the names Quavo (Quavious Marshall), Takeoff (Kirshnik Ball), and Offset (Kiari Cephus).
Some of their most successful songs include, "One Time," "Fight Night," "Pipe it Up," "Handsome & Wealthy," and "Look at my Dab."
As a part of their "YRN Tour" Migos made an appearance at The Ritz. Following their opening act of two men still unknown to anyone who attended the concert, Migos took the stage an hour and fifteen minutes after the concert was set to start.
To pass time before the trio was ready to show out, a DJ played some well known radio jams to keep the crowd busy, but the crowd was not amused. Tightly packed inside a crowded venue with little to no AC, fans were getting impatient to say the least.
Once Migos hit the stage, the crowd was excited for the show to finally begin. They took the stage for 20 minutes or so, and their background music started to glitch. After this unfortunate event, Migos left the stage and the show was over.
In the crowd, there was talk that this was just an act they were putting on that was part of their show. So ambitiously, some fans waited for the three to return. Others were not so hopeful, and left immediately.
After waiting for another 20 minutes, everyone came to the same conclusion– Migos were not coming back out and the show had ended.
As faces fell and the venue became less and less crowded, people raised a fuss about spending money on a concert that consisted mainly of standing uncomfortably and waiting.
Overall, the experience for this performer was unimpressive. Disregarding the fact that the concert ended abruptly, this was the second time that Migos had to end or cancel a show for Raleigh and the venue was severely uncomfortable to be standing around in.
If someone is planning to attend a show at The Ritz, I highly suggest bringing a bottle of water to stay hydrated, low expectations, and maybe even a personal fan.