On Monday, September 21, students discovered a popular social media app was blocked through all Wake County Public School wifi networks due to lack of educational value.
Social media sites such as Twitter, or Youtube, provide a way for teachers and students to communicate ideas, share media, and conduct class discussion through their accounts.
Snapchat, however, only allows a photo to be seen for 10 seconds at maximum with a limit of characters. Teachers can find more effective ways to comminute with students, therefor making it useless in the school environment.
Reluctantly, not all students are ready to rebel against the school board for this app to be unblocked.
Benton Hounshell, a sophomore here at Leesville, expresses his thoughts towards the situation, "It's beat [sic]," he said. "It does not make my educational experience any better."
To students like Hounshell, the blocking of Snapchat wasn't a big deal. To others, however, this was personal.
Students through ipetitions.com have created an online petition to unblock Snapchat. This petition had gotten some attention through another form of social media– Twitter. There were about 130 signatures since it was created a day after the app was blocked, September 22.
Through this website, students were able to create a petition with a description of the cause, or leave a signature with a comment as well. Students from all over Wake County have left comments on this petition expressing how they feel on the matter.
Though a petition is a good way to help spread word of your cause, that is not where it ended. The twittersphere blew up with tweets directed at the WCPSS twitter account to let them know exactly how they were feeling.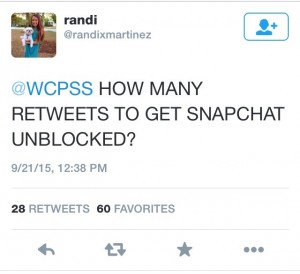 The twittersphere has never been shy when welcoming a good back-to-back twitter war with WCPSS twitter account, and WCPSS has never been afraid to reply back to snarky tweets with an even sassier rebuttable.
No matter the action, this is a prime example of students getting together from all over the Wake County area to fight for something they all believed should be changed. This is the kind of cooperation, innovation, and initiation that represents what the students can accomplish when they get together. As of now, October 21, Snapchat has not been unblocked. However, students efforts to get the app were duly noted.