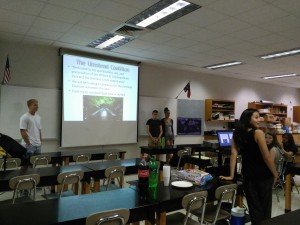 The Environmental Club held their first meeting of the year on September 8. Members of the club believe in joining together as a community to improve the current state of the environment.
The majority of the students' main concerns about the environment were political, economical, energy sources, and current events. Their environmental topic of the month is deforestation and part conservation.
Jinna Hatfield, senior and president of the Environmental Club, confessed her concern about the environment. "It's aesthetically important that we're all caught up in the world and what's going on with nature and ways that we can help."
So far, the Environmental Club is planning to do trash days at Leesville, and they are taking a field trip sometime this fall, the date is undecided. Simple habits such as being cautious about disposing/recycling trash, turning off the lights and using energy can improve the environment each day.
Dr. Stone, advisor of the Environmental Club expressed that carpooling is one of the easiest ways to save on gas and limit air pollution. Dr. Stone uses his bicycle as transportation and walks at the first opportunity.
The Environmental Club's goal is to work alongside nature as a community, so technology and nature can intertwine.
The Environmental Club meets once a month on every second Tuesday in Dr. Stone's room, 245.