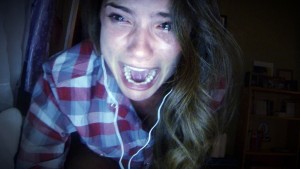 Unfriended made a startling first impression with its first trailer. Now, only a week remains before the movie makes its theater premiere next Friday, April 17.
Heather Sossaman, Matthew Bohrer and Courtney Halverson star in this R-rated thriller. As the movie begins, six friends find themselves Skyping one night when they all receive a message from a fellow classmate who had killed herself exactly one year ago. The friends, all thinking this is only a prank, don't take the situation seriously until the supposedly "dead" girl begins to reveal the group's darkest secrets. They quickly realize that they are all wanted dead.
After watching the initial trailer (including the shocking hand in a blender scene), many made the immediate decision to avoid this gut wrenching thriller. However, Carson Rainey, sophomore, had a different mindset.
"The Unfriended movie looks really entertaining and actually kind of funny," said Rainey. "I like horror movies because they make you think about things that you never think about on a regular bases. They're also a well-needed break from all the dramas and comedies."
Reviews from earlier showings reveal that many are impressed by the new angle approached by director, Levan Gabriadze. However, all can agree that this movie is purely for entertainment, not memorable, purposes.
One review off of IMDB, said, "I am entertained! For those who want to watch something profound, deep, meaningful or even something you will remember, this is not the right movie for you. But, if you just want to [be] entertained for two hours, get some cheap scares, some good laughs and just forget about the world, this is definitely it."