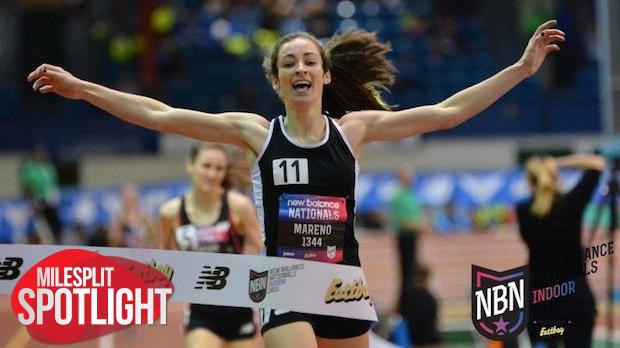 Nevada Mareno, Leesville's own, has shocked America.
Saturday, March 14, Mareno joined her teammates in the 4×800 relay at this year's New Balance Nationals. With a 2:07.60, Mareno helped Leesville, ranked 9th, place 2nd with a combined time of 9:03.63.
"I knew when I got the baton that they had given it their all and…I owed it to them to do so as well," said Mareno. "It felt amazing to be in the medal stand with them."
With the fastest split of the night, Mareno gained a new level of confidence for her race the next day.
Only an hour before her mile was set to go off, Mareno watched the mile's pre-race favorite, Ryen Frazier, win the two-mile race.
"I saw her run…and figured if I ever had a chance to beat her, it was now," said Mareno. "My idea was just to go…I'm a sophomore, and I could do something crazy. There's nothing at risk here…I decided, why not put myself in the front and see how long I could hold on?"
It turned out Mareno was able to hold on and break from Frazier during the final lap. With a personal record of 4:43.23, Mareno claimed first in the nation.
"Knowing the kind of work she put in during the season and…that moment, I was so… I don't like to use the word 'proud' but it was more," said Jerry Canada, Leesville's head coach.
When asked on her focus right now, Mareno said, "I did soccer last year. I committed to doing it this year. I…wanted to make sure I got closure. I know I'll have more time to dedicate to track, and I know next year, I'm going to give track all I've got."