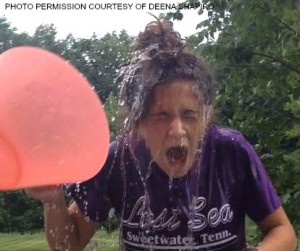 The ALS ice bucket challenge caught people's interest towards the end of July, when people began to raise money and awareness for ALS, or the Lou Gehrig disease.
People who contract amyotrophic lateral sclerosis, or ALS, slowly become paralyzed and lose all feeling due to nerve cells in the brain degenerating. The ALS ice bucket challenge is to give people a brief feeling of numbness, like many with the disease.
The trend was not originally connected to ALS. In the beginning, the challenge was not tied to one certain charity. Someone would complete the ice bucket challenge and then name a charity for other contenders to donate to. It really took off when former baseball player Pete Frates, a victim of ALS himself, attempted the ice bucket challenge and dedicated his challenge to ALS research.
This challenge includes anyone nominated, and the rules are simple: Complete the challenge by dumping ice water on yourself within twenty four hours of being nominated, or donate to ALS research funds. Many people, from celebrities to students, have completed the ice bucket challenge. The videos have been uploaded on all sorts of social media, including Instagram and YouTube.
"It's raised lots of awareness and a ton of money for ALS. Social media, like Instagram [has helped to gain] support for ALS." said Deena Shapiro, sophomore at Leesville.
Since the challenge took off, the ALS research foundation has received more than seventy million dollars in donations to the cause. People have given the foundation more attention as well.