Quarterback Clay Vick threw three touchdowns to lead Leesville  to a season-opening 34-12 win over Durham Jordan on Friday at Hamilton Stadium.
Vick, junior, completed 13 of 16 passes for 241 yards, three TDs and no interceptions in his varsity debut. "The wide receivers…got open really well," said Vick humbly.
The Pride (1-0, 0-0) lead 14-0 in the second quarter after a 59-yard run from Mike Dehaney, senior, and a 7-yard pass to Elisiah Richardson, senior receiver. But a 64-yard fumble return for touchdown gave Jordan life, and the visiting Eagles (0-1, 0-0) entered halftime with some momentum.
A 25-yard connection from Vick to Connor Eller, senior receiver, on a 4th-and-16 early in the second half gave the home team a major boost, putting them up 20-6 at the time. However, Jordan answered with an 84-yard touchdown drive to cut the lead to 20-12, then got the ball back with 2:31 left in the third quarter and only a one-score deficit.
One play later, though, Max Reconnu, senior linebacker, sacked the Jordan quarterback and forced a fumble, which was recovered by Jason Thompson, junior lineman, in the endzone. The resulting 27-12 lead proved insurmountable.
Leesville added an insurance touchdown with less than six minutes remaining when Vick again found Richardson, who finished with six receptions for 103 yards. Eller accumulated five receptions for 75 yards.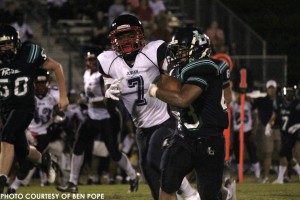 Khamari Alexander, senior running back, totaled 98 total yards of his own, including seven carries for 65 yards.
Despite the decisive win, the Pride were plagued by a monsoon of penalties throughout the night, including five facemask fouls.
Mike Hobgood, making his debut as Leesville head coach, was far from elated when the night was done.
"It was a win, [but] it was very sloppy: the penalties, turnovers, not capitalizing when they put the ball on the ground," he said. "There's definitely no reason to cancel practice, but obviously you get the win and you're able to learn from that better and move on."
As for the success through the air — historically not Leesville's main offensive strategy — Hobgood attributed the tactic mostly to Jordan's defensive gameplan. "They put a lot in the box to stop the run, so…we felt like we needed to throw it in that case." As a result, designated 'running' quarterback Mason Pyper, senior, took just three snaps in the entire game.
"Clay's got a good arm and he's got good receivers who, when they catch it, can make something happen," Hobgood said.
Leesville's defense held Jordan's offense to just one touchdown. Daniel Gleiberman, senior defensive end, led the unit with three sacks and seemed to be a disruption on almost every play.
"We capitalized on some turnovers…that we forced," said Spencer Eason-Riddle, senior linebacker. "We can play a lot better and we know that, so we'll definitely put in more work during the week."
The Pride expect a bigger test next week, when they travel to Apex on Thursday prior to Labor Day weekend. Leesville won last year's meeting between the two teams 40-6 at home, but the Cougars are coming off a 46-10 win over Harnett Central on Friday and will be seeking revenge.
"Apex is a tough team, but so are we," said Vick. "I think we can handle it."