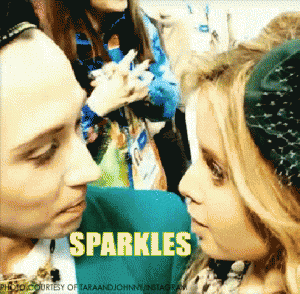 Unknown, incredibly talented skaters from around the world train and compete vigorously for Olympic gold, silver or bronze medal of honor. How does one judge the fierce and competitive mood associated with Olympic skating?
Essentially, embody Johnny Weir and Tara Lipinski. The former Olympic skating medalists and fashion moguls took the world of sports commentary by storm in their ability to simultaneously captivate and inform audiences with their sassiness and technical knowledge of ice skating.
Watching hours upon hours of Weir and Lipinski's commentary, I felt as though I could accurately determine how well skaters "twizzle" and how much their score would be impacted if they fell. Their chemistry and humor transported viewers into the catty and chaotic world of partner and individual ice and dance skating.
One of the most publicized example is when Weir challenged the grace of Czech skater Thomas Verner:  "He really reminds me of a hockey player that's also a really good dancer."
A personal favorite quote was Weir's reasoning that Yuzuru Hanyu's gold for Japan was because he wore an outfit Weir designed. As funny as Weir and Lipinski were, it was obvious that their judgements held merit.
"Tara and I take our work seriously," Weir said in a New York Times interview. "She's my work wife. And she's a slave driver, so we sit up and study until she's satisfied."
Lipinski said to the Associated Press, "We not only plan how we look, but we're up until three in the morning looking at all the skaters' backgrounds and biographies."
Lipinski and Weir's outfit coordination throughout the Olympics illustrated the fun and flamboyant side of skating. Considering Weir has already released a skating clothing line, it is only fitting that the duo lend their wit and fashion sense to Access Hollywood's Oscar's fashion wrap.
"We want to be 80 and still commentating on figure skating with each other," said Lipinski, to which Weir said during their broadcast of the Olympics, "We hope to be in America's living rooms for a long time to come."