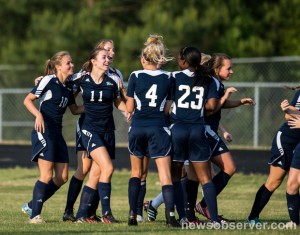 Paul Dinkenor, longtime head coach of the Leesville Road women's soccer team, loves a good challenge, although this season may be a big one.
The Lady Pride is coming off an 18-win season, along with a second place CAP-8 finish and an appearance in the quarterfinals of state playoffs. Although this is nothing to be ashamed of, Dinkenor emphasized that this means nothing.
"Really nothing that happened last year has any relevance to do with this year considering the fact that we graduated nine seniors, all of whom were great contributors," said Dinkenor.
With nine graduated seniors, the 2014 squad will be young. While coaching a young team has its challenges, it is something Dinkenor appreciates because the teams have to come together and bond to compensate for other areas on the field.
"Gaining up to 14 new letterman this season will be interesting, but I feel good about our team chemistry, which is absolutely critical with girls," said Dinkenor.
The 2013 squad finished second in the CAP-8 for the first time in seven years, finishing first in all years prior. With multiple state championships and many conference titles earned, the Lady Pride are used to being successful.
Dinkenor emphasized what he loves about the women's team, including the tradition and the bonds the girls make.
"The tradition of success in our program is spectacular, and the expectations are through the roof, but ultimately I want the girls to work hard and enjoy their time here. When it's all said and done, I want them to look back at all the positive memories," said Dinkenor.
There is no doubt that the Leesville Road Womens' soccer program has made its mark in North Carolina athletics. They have become a well respected team across the entire state. Dinkenor has arranged the preseason schedule so the girls get a chance to play against top teams, hoping the girls will grow from playing tough teams. Dinkenor doesn't believe in playing "cupcakes," as he described less competitive squads.
With tryouts taking an entire week to determine his squads, Dinkenor has put plenty of thought into what kind of team he wants this season. Expectations will be high, and the Lady Pride womens soccer team will be eager to battle it out for the CAP-8 title. According to Dinkenor, "The team will have the toughest schedule we've ever had," so it should be an exciting season at the least. The team defeated Green Hope, the defending state champions, 2-1 in their first game of the season.