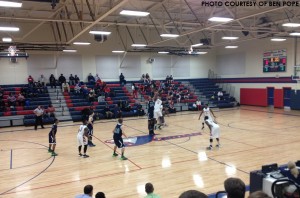 Brandon Staves, Leesville senior and basketball team captain, just "wanted to play one more day." Monday, he accomplished that goal one more time.
Staves exploded for 13 points in the second half as the 21st-seeded Pride rallied back to edge No. 12 seed Jordan Durham, 57-54, in the first round of the NCHSAA 4A East playoffs.
"We picked up the intensity in the second half," he said. "We just stayed together and played as a team."
Staves' 17 points overall trailed only Grayson Kelley's 22 for the team lead. Kelley, junior, kept Leesville competitive throughout much of the first and second quarters as he contributed a remarkable 14 of the team's 22 points in the opening half.
"The energy by the crowd [and] players was fantastic," Kelley said. "Everyone stepped up [and we] came out with the win."
After trailing by nine at moments in the first half and five at halftime, Leesville rallied back to lead 55-54 with 40.9 seconds remaining. Jordan's attempt to drive the basket was stymied and Jonathan Mebane, freshman, was fouled with 11 seconds remaining. He made both free throws to give the Pride a three-point lead, and a desperation three-point attempt fell short on the other end as Leesville emerged victorious.
Russ Frazier, head coach, couldn't have been more pleased with his team's performance. "We won the ball game on effort: loose balls, rebounds, and just not giving up on plays," he said, listing effort, heart and energy as the keys to the win.
The larger Jordan roster dominated the scrappy areas under the basket early on, taking a 9-2 lead right out of the gate, and Leesville struggled to find scoring balance in its offensive zone. Outside of Kelley and Staves' big totals, Mebane ranked third on the team with just seven points.
Yet the Pride came out of halftime firing, quickly cutting the Jordan lead to 32-30 then claiming a 37-36 edge with 1:36 left in the third quarter. The host Falcons surged back to reclaim a five-point advantage, but the Pride converted on Jordan's second-half foul troubles and used free throws to climb back near even.
With the win, Leesville advances to a game in Fayetteville on Wednesday against No. 5 seed Seventy-First.
They'll certainly hope for another atmosphere like Monday's, when green-clad fans outnumbered the hosts by a three-to-one margin and produced plenty of noise in the tense closing minutes. "[The] atmosphere was amazing," said Frazier. "The Leesville community, the Leesville Loonies…we can't thank them enough."
The victory is another enormous step in the maturation of this young squad, which has now won 10 consecutive games against opponents other than Millbrook. They'll be significant underdogs again in Fayetteville…but that might be just the way the Pride like it.
"We have a saying, 'We're playing for one more day,'" said Frazier. "Most of these people are playing for trophies; we're playing for one more day. We don't want to run out of time."