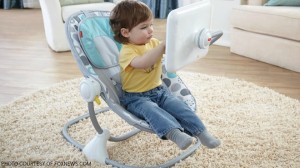 The Apptivity Seat by Fisher-Price is one of the newest baby products on the market this year. It's also one of the most controversial.
The Apptivity Seat is an adjustable bouncy seat complete with dangling toys, as well as a – inch mirror intended to entertain the baby/toddler. The Apptivity Seat also comes with the option to insert your iPad into the mirror's case. There are free apps that parents can download onto their iPad specifically created by Fisher-Price for the Apptivity Seat.
"Apps for the youngest baby feature soft, soothing sounds and nature scenes, black-and-white images and high-contrast patterns that help develop eye-tracking skills. As baby gets older, age-appropriate apps introduce letters, numbers and more through sing-along songs, sounds and friendly characters," claims Fisher-Price's website.
Although the intentions of Fisher-Price seem innocent, the Apptivity Seat has created a stir among parents and professionals, who agree that the seat could potentially be harmful.
One review for the product on Fisher-Price's website explains, "While the seat is very nice, the idea of sitting my infant in front of an electronic device for entertainment is absurd to me. I can't imagine how the next generation might turn out if every baby is stuck in front of an iPad for entertainment…"
Dr. Richard Besser, ABC News chief medical editor and practicing pediatrician, feels that the Apptivity Seat is unsafe for children and their development.
"A child's brain is going through incredible development and change during those early years. The best thing for a child is extensive interaction with people, hearing voices, seeing faces, physically touching toys. I worry that screens will replace these important human interactions," said Besser in an interview with ABC News.
Even the American Academy of Pediatrics released an article stating, "Television and other entertainment media should be avoided for infants and children under age 2. A child's brain develops rapidly during these first years, and young children learn best by interacting with people, not screens." Yikes.
The Apptivity Seat isn't the first baby product to feature iPads and iPhones. Early this year, CTA Digital released "iPotty." Based on its name, the infamous product is exactly what you'd expect: a potty training seat with an attached stand and screen protector for your iPad. This allows your baby/toddler to play on your iPad while they learn to "potty." Are these technology based baby products really what manufacturers have come to?
According to a Common Sense Media research study, the use of these electronics among youngsters in 2013 is surprisingly prevalent.
"72% of children age 8 and under have used a mobile device for some type of media activity such as playing games, watching videos, or using apps, up from 38% in 2011. In fact, today, 38% of children under 2 have used a mobile device for media (compared to 10% two years ago)," claims Common Sense Media's website.
These statistics raise another good question: when exactly is the right time to expose little ones to this kind of technology? Michaela Wooldridge, a researcher working on her PhD at the University of B.C., says the answer is unclear.
"We don't know. The mobile technology hasn't been around long enough," said Wooldridge in an interview with The Vancouver Sun.
Wooldridge has spent almost 25 years studying early childhood development and is currently working on a project titled, "An Ecology of Technology: Infants, Toddlers and Mobile Screen Devices." Wooldridge has been gathering information from parents from both online surveys and personal interviews for her project in hopes to clear up confusion and discover more about the effects of technology on development.
Until further evidence on the topic is found, the controversy over children and electronic devices is sure to persist. For now, parents will have to make the call and decide what's right for their child.