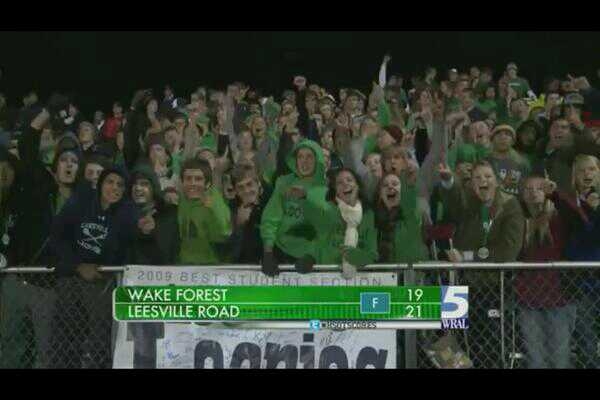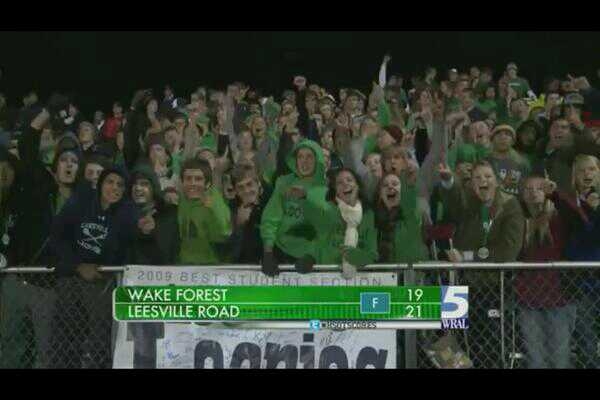 Leesville Road High School prides itself on the quality sports it brings to the Leesville community. Football, baseball, basketball, volleyball, whatever it is, we Loonies are there. The support for our football team alone is unparalleled–the stands are so crowded most rows have to stand sideways to accommodate everyone. Away games especially are impressive, for more times than not the Loonies side is packed tighter than the home stands.
Sports are a way for students to band together and find a common ground among hundreds of people. Instead of sitting at home messing around with video games, computers, social media websites, all of that "stuff", they are at the game screaming so hard they won't be able to talk the next day, and the team playing so hard they won't be able to move the next day.
However, an article in The Atlantic mentions that recently there has been an argument that sports are distracting from academic studies. Students, instead of studying through hours of the night, are out participating in sporting events, causing their grades to drop.
The Atlantic also mentioned that a portion of school budgets is spent on sports. Premont High, a high school in Premont, Texas, spent $1,300 per football student, and only $618 every math student. If Enrique Ruiz, the school's principal, cut the entire sports budget for the school, he would save $150,000 a year.
Think of all the practices, coaches, equipment, buses, everything that costs the school money, time, and student focus. The thought of canceling school sports was extremely appealing to Ruiz, for the school had been knee-deep in debt for several years now and was at risk of shutting down.
Ernest Singleton, the superintendent, cut the sports budget for Premont High. "'I knew the minute I announced it, it was going to be like the world had caved in on us,'" he said in The Atlantic. Most athletes that attended the school left to enroll in other schools farther away to have the opportunity to participate in sports. A few teachers, too, left to coach teams at other schools.
But the results were shocking. In the first semester, 80% of the students passed their classes–a huge improvement from the mere 50% from the previous years. In previous years, a parent-teacher night attracted a mere six parents, but that year there were over 160 parents that attended. "Principal Ruiz was so excited that he went out and took pictures of the parking lot, jammed with cars," wrote Amanda Ripley, author of the article in The Atlantic.
Teachers now could devote more time to lesson plans and after-school tutoring. The number of fights decreased dramatically, allowing for misbehavior to decline as well. The school was able to save large sums of money to put towards rebuilding the science labs. But most importantly–the school had no debt.
While there are numerous advantages to doing this to Leesville, there are many other factors to consider. Sports are a necessary outlet for students. Just think, what if we couldn't play football anymore? Baseball? Soccer? Sports alleviate stress, distract from social drama, and clear the mind. Sports create a bond between everyone in the school that cannot be recreated.
Mail Online discusses a study performed by University of South Carolina and Pennsylvania State University. The colleges collected data from 9,700 high school students around the country, asking for their extracurricular activities and grade point averages. Matthew Irvin, an assistant professor at USC, was quoted in Mail Online, "'Team sport is significantly related to higher grade-point averages and a higher likelihood of completing high school and enrolling in college.'"
When asked what life would be like without soccer, Mary Kate Bowers said, "I don't know who I would be." She recently suffered an injury that hasn't allowed her to play. "It's been six weeks now [without soccer]…it's been a testing period. I still go to soccer but I just sit there, it's awful. It's a big part of my life, I don't know where I would be without it."
But if Leesville did eliminate sports, where would we be? Friday nights would reveal silent, ghostly fields. And would students really go home to study? No–without sports, students would sit at home and play video games or mess around with social media websites.
Dave Pyper, a Leesville coach, mentioned that "for some kids, sports save their life." He explained that sports give students a sense of purpose and unity, and that without them "you'd have a lot of kids with a lot of energy."
Pyper works to improve his players' grades and stresses the importance of effort rather than straight A's. Pulling a student off a team completely doesn't necessarily mean their grades will improve. Pyper explained that cutting them for a few weeks gives the players motivation to pull their grades up so they can join the team once again.
James Causey, author of an article on JSOnline, wrote, "The school experience is more than reading, writing and arithmetic. If you take away sports and music and art, you are stripping away school spirit." The presence of sports programs in schools helps keep students in healthy environments and not sitting around trying to find something to do.
An article in the Washington Post mentioned that "sports and other extracurricular activities do better than academic classes in teaching leadership, teamwork, time management and other skills crucial for success in the workplace."
Sports, while extremely expensive, encourage students to learn both comradeship and leadership skills. They're a way for students to find spirit within each other and relish in competitions with other schools.
I couldn't imagine a Leesville without our pride, so let's keep it that way.