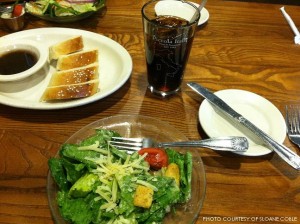 Walking into Piccola Italia in Cameron Village, I didn't know what to expect. What I was given was a hearty, filling meal in a relatively cozy setting. One word describes the experience: satisfactory.
The classic Italian decor inspires an assumption of "If you've seen one, you've seen them all;" however, the oil paintings and and wrought iron wall ornaments make for a put together and intimate atmosphere. Misconceptions were a theme during my Piccola visit, and the staff was one of them.
At first, the staff seemed somber; do not let this fool you. The waiters and hostess are extremely helpful: they directed me to the owner when asked and put my food in a box and bag and brought me a carry out cup for my drink without being asked.
My party of two ended up ordering chicken parmesan and lasagna. The two lunch combos came with a small salad and bread with a balsamic vinegar/oil concoction. Though the meat lasagna was described as "underwhelming", my chicken parmesan was lovely, well cooked and flavorful. Even more delicious was the Nutella cheesecake with Oreo crust, eliminating the entree from the palate with its creamy richness. Leaving hungry was not an issue at Piccola. In fact, half of my meal made it home with me. Reheating it did not ruin its quality.
Overall, the experience at the restaurant was fairly mundane with small surprises. Despite this, Piccola offers you an intimate, classic Italian meal. Piccola is an option to consider, though it may not top the list.