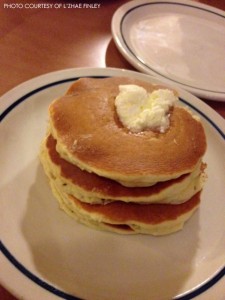 On Tuesday, February 5, people could go to IHOP, dine in, and eat pancakes– for free.
National Pancake Day at IHOP is a tradition that has been carried out since 2006. Each customer is allowed one free short stack– two to three pancakes. Customers aren't required to pay, but they are encouraged to leave a donation.
All proceeds made on this day are donated to Children's Miracle Network Hospitals and other charities. Since it's beginnings in 2006, National Pancake Day has raised more than $10 million to support charities and communities.
It can be a little chaotic on this day– IHOP spokesman Patrick Lenow told the Monitor that attendance was usually double or triple the number of a normal day.
For the past two years, my friends and I have attend this event, and this year has been no different. What else could be better than hanging with friends and getting free food?
When my friends and I arrived to the restaurant, it was chaotic. We got there around 9:30, and the free pancake promotion ended at 10. So, like us, there were many people showing up last-minute.
The waiters and managers were rushing all over the place. The place was packed full of people. Our waiter in particular seemed to be completely exhausted– he left the water tray on our table and forgot to take up our menus. It was understandable– waiting on hundreds of hungry, aggravated, non-paying customers was probably taking a toll on him.
Luckily, we were able to get our pancakes. Although we technically didn't get our pancakes until after ten, they were still free. When we approached the front counter, they politely asked us to make a cash or check donation.
Children's Miracle Network Hospitals raises funds for non-profit hospitals across North America. The money is used in the departments that need it the most, and all of it goes toward helping children who are sick and in need. According to CMNhospitals.org, they have raised more than $4 billion since 1983, most of it $1 at a time.
The next National Pancake Day has yet to be announced; however, there's no need to worry because they happen annually. Next year be sure to go to IHOP for free pancakes– but don't forget to make a donation.