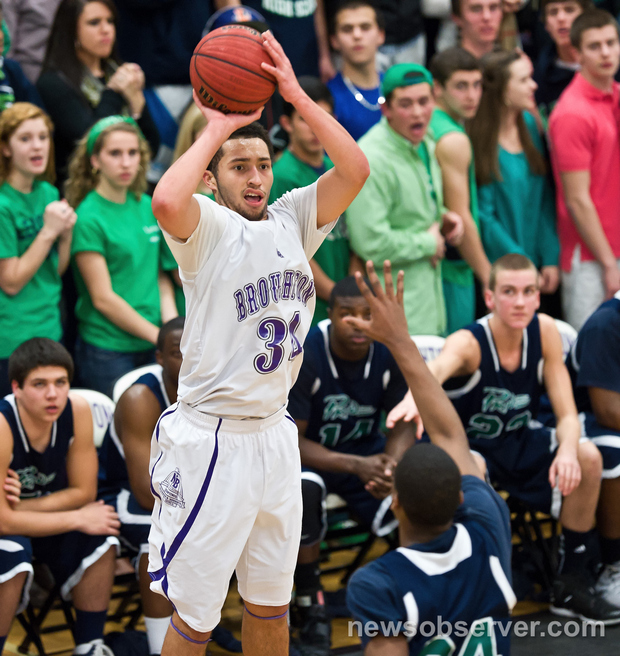 The final score didn't turn out as he had hoped, but, even in an unfamiliar gym with midnight hours approaching, Russ Frazier still couldn't keep a smile off his face.
"We played 32 minutes of basketball," said Frazier, head coach of the Leesville basketball team, "and that was fun."
After two overtime wins carried the Pride through the tournament's first two rounds, Leesville's resilient effort fell just short Friday in a 67-58 loss to Broughton in the Cap-8 Conference Championship.
The squad held the hosting Capitals scoreless in the game's first three minutes but still trailed 11-7 after the first quarter, 30-23 at halftime and 48-38 after the third.
However, when Leesville cut a double-digit deficit down to 54-52 with 2:08 remaining, the trend seemed to be turning. The Pride had reached the double-bonus at the foul line, Broughton was down a fouled-out starter and the several thousand fans packing Broughton's Holliday Gym were on their feet and roaring.
Yet the Pride were never able to take the final step, committing a few crucial turnovers and letting the Caps pull away for the final time. "We needed to calm down and not be silly with the ball," said Frazier. "We got a little over-excited in the moment."
Nonetheless, despite the loss, the night was one that will be remembered for years to come.
In their first winning season since 2005-2006, Leesville posted a 12-5 record in the Cap-8 Conference and earned an opportunity to play on Raleigh's biggest high school basketball stage Friday night. Both student sections extended through two levels of seating, but plenty of unaffiliated spectators were also on hand for the game, which was televised live online and on WRAL2.
Leesville was treated to a break-out performance from Greyson Kelley, sophomore, who tallied 13 of the Pride's first 24 points and served as the team's most dominant player down low throughout the evening. "He's a hard-working kid [and] a blue-collar basketball player," said Frazier, "and it showed tonight."
Many Loonies stayed in support well after the final buzzer as Shyheid Petteway and Reggie Jones, two of the team's six seniors, received Conference All-Star honors.
Even once the excitement had died down, Frazier remained happy with the night's performance.
"You have to fight, you have play for the last second, and that's what we did," he said.
"It was a fun game to experience."