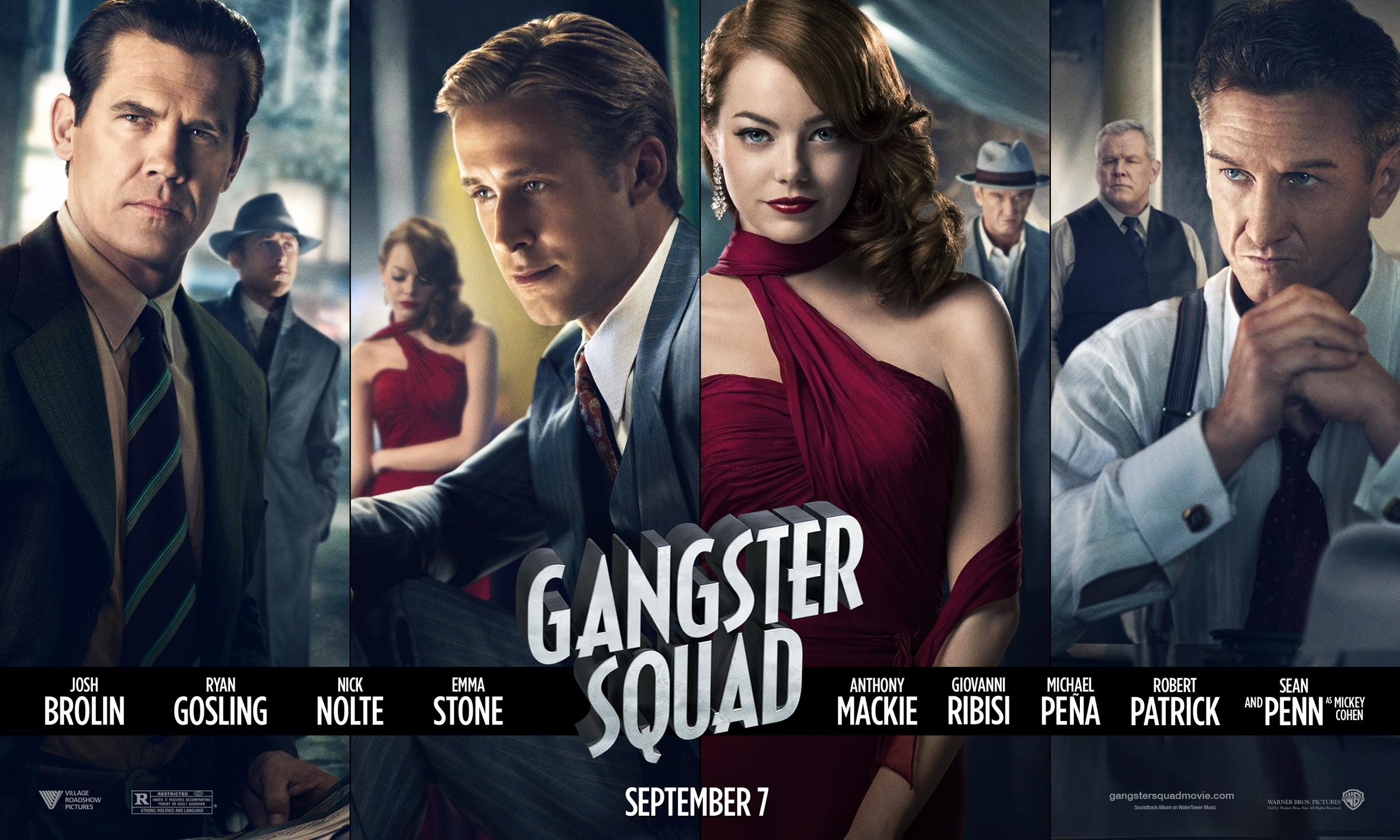 Those buying a ticket to Gangster Squad get exactly what they pay for — a goosebump inducing account of one of the biggest police mob stings in history.
Gangster Squad is a thrilling action movie for dedicated gangster movie enthusiasts and newcomers to the genre alike. Directed by Ruben Fleischer, the violent and dramatic mob movie premiered Jan. 11.
Even without much prior knowledge of Cohen (Sean Penn), the opening scene impressively grabbed my attention while concisely explaining Cohen's past. The scene begins in 1949, and the former Jewish boxer becomes a powerful force in the West Coast mob drug, gaming and prostitution rings.
Cohen's particularly ruthless and psychotic tactics captivates the former World War II combat veteran, Sergeant O'Mara. He obsesses over putting an end to Cohen's operations, defying his boss, Commissioner Will Parker (Nick Nolte) and his pregnant wife, Connie (Mireille Enos), to form the gangster squad.
In the midst of waging war, Jerry Wooters (Ryan Gosling), squad member, falls for Cohen's girl, Grace Faraday (Emma Stone). Faraday adds an essential, human element to the film. Her romance with Wooters helps build tension while distracting viewers from the more violent shooting scenes.
The vintage dress in Gangster Squad was impressively vivid and realistic. Policemen and gangsters appear believable and sharp in fitted gray suits with matching fedoras. Faraday embodies old Hollywood glamour in bright red and blue pantsuits and a gorgeous over-the shoulder gown.
However, the movie is far from perfect. My main criticism with the movie is that it did not give a completely accurate portrayal of Cohen. Historians regarded the real Mickey Cohen as an admired, charismatic figure in mob culture, not the cruel madman Penn portrays.
Another is the overly dramatic shootout scenes. Considering the movie is about catching a notorious gangster, these scenes are not overdone, but the rating could have easily been down-graded from R to PG-13 if some of the more graphic shootout scenes were cut.
In light of the Aurora shooting, Warner Brothers decided to push Gangster Squad's release date to Jan. 11. Their intention was to not perpetuate gun violence or disrespect the families of victims. It was appropriate to move the date, but I still feel it was wrong to emphasize brutal gun murder scenes.
Overall, I highly recommend the movie to anyone who appreciates a good gangster or gritty action flick. Gangster Squad is a riveting movie for mature audiences.