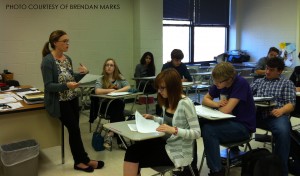 In the coming months, Leesville Road will lose some 500 graduating seniors, all off to pursue whatever it is life has planned for them, whether it be in the workforce, in the army, in college, or elsewhere. However, Leesville will be losing more than just promising students; both Mr. Espinal and Mrs. McGarry will be leaving Leesville at the end of this semester.
Both currently working towards their Masters degree in School Administration from UNC-Chapel Hill, Espinal and McGarry will be assigned to another local high school for the 2013-2014 school year.
Espinal, art teacher, said his decision to become an administrator has been several years in the making. "I've been entertaining the idea for about two years now, but I finally decided to go for it and was lucky enough to get it," said Espinal.
McGarry, English teacher, differed from Espinal, saying she had always known she would like to be an administrator. "I've always known that eventually I would like to leave the classroom," said McGarry. "I've always loved teaching, but the timing was just right for me to take another step."
Through their program, Espinal and McGarry will relocate to another area high school, potentially even in Wake County, where they will serve as an administrative intern, similar to Mr. Brewington last year at LRHS.
Said Espinal, "Next year, our job is to shadow the principal and assistant principals at the school and try and learn as much as possible about staff, students and the interactions between them."
"It's something new for us both," said McGarry. "As teachers, we can sometimes be tough on the administrators, so to learn their struggles, what they go through, will definitely be interesting."
As an art teacher, Espinal has helped to promote the arts and art education at Leesville over the past nine years. "Being creative is one of the things I think I'll miss the most. Also, the relationships I've built with my art kids, giving my creative thoughts to them, administrators don't always get to have those one-on-one relationships," said Espinal.
McGarry also felt that what she would miss the most about teaching were the relationships she had with students. "Watching my students grow over time, interacting with them– I'll miss those connections," said McGarry.
While both McGarry and Espinal are seeking their degrees, each has a different plan for the future.
"The ultimate goal is to hopefully become the principal of a high school," said McGarry. "It may take time, but eventually, that's where I hope I end up."
Espinal, on the other hand, plans to use his degree as an outlet for a further dream. Said Espinal, "I'm not completely sure where I see myself later on. I've been teaching for nine years now and I'm sure I'll be an administrator for some time, but what I'm most excited about is having to adapt to something completely different than what I know. If I could, I would take those administrative skills and open a non-profit for troubled schoolkids. It's a dream to be able to make kids feel important and creative, any kid who strives to do something else."