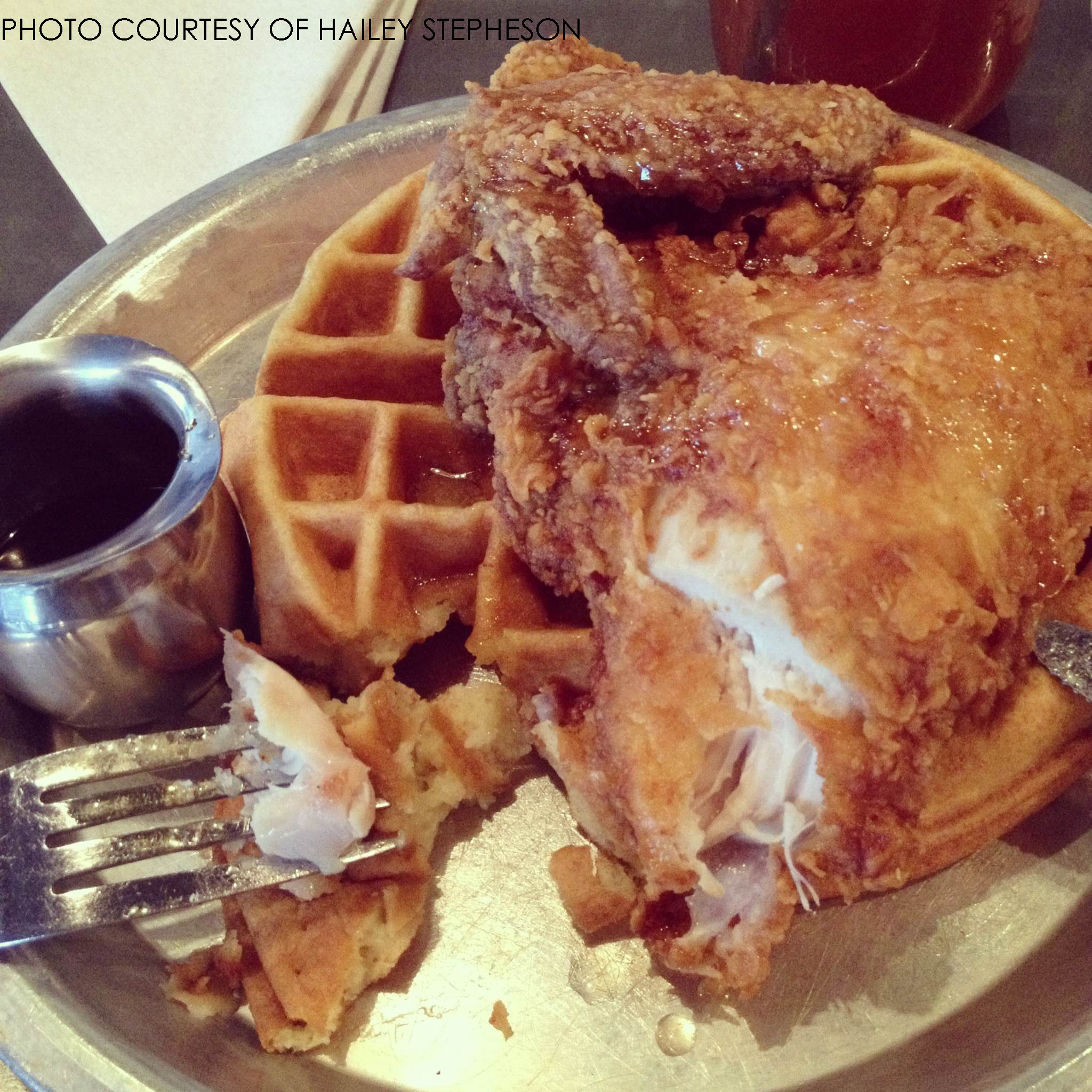 I recently heard about a restaurant in downtown Raleigh famous for their southern eats. The entree that stuck out the most was chicken and waffles. Being two items that aren't typically eaten together, I was intrigued.
Beasley's Chicken and Honey, one of four Ashley Christensen Restaurants in the Raleigh area, is located on the corner of S Wilmington street and E Martin street downtown.
The southern cuisine is sure to wow its diners. Ranging from egg casserole and pimento cheese served for brunch, to chicken pot pie and berkshire pork shoulder meatloaf served for lunch/dinner, the extensive menu is bound to please every guest.
With an open bar and a dining area, families of all types are able to feel comfortable in the small, but quaint, hole-in-the-wall restaurant. The open-feel from the windowed walls creates a spacious atmosphere for its guests to enjoy.
The restaurant has a metal bar and chairs, huge wooden slabs as tables, and vintage-looking hanging light fixtures creating an industrial feel. Red, being a color said to stimulate hunger, is included in the design.
The giant wall behind the bar is painted with chalkboard paint where the extensive list of beer is written. A large chalk mural of swirls and bumble bees lay on the the far left side of the wall.
My dad and I sat at the bar and did not have to wait at all to be seated. Within 20 minutes we were served our drinks and appetizer, Beasley's famous buttermilk biscuits.
The two of us struggled to make a decision, as everything sounded delicious. Eventually, we came to a conclusion and each ordered chicken and waffles, white meat.
I expected to receive a plate piled with overly-breaded chicken and super-sweet waffles, as southern dining typically is. But, to my delight, the chicken was perfect with an abundance of meat, hardly any bone at all, the waffles fluffy and just right in sugar content. The maple syrup was rich, not thick and muddy like syrup can be.
Washed down with a mason jar full of sweet tea, the meal was complete. My only complaint is that I did not leave room for dessert.