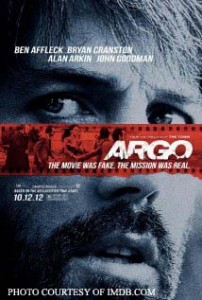 Ben Affleck's most recent film, Argo, is a thriller from start to finish. Affleck, director and lead actor, portrays the Iranian hostage situation in the school year's most intense movie.
On November 4, 1979, Tony Mendez (Affleck), a CIA agent, hears that six Americans escaped the Iranian invasion of the American embassy. In order to hide from the riot, the six take shelter in the Canadian embassy before calling for help.
As an exfiltration specialist, Mendez pulls together a rescue plan with the help of John Chambers (John Goodman) and Lester Siegel (Alan Arkin). Their master strategy turns out to be a fake science fiction movie named Argo in which they disguise themselves as producers to escape.
Throughout the film, Mendez works to pass off his movie as legitimate in the eyes of the Iranian government long enough so that he can save the six escapees.
The thriller is placed in Iran for the most part. Affleck's use of a constant impending doom pulls the audience into a sense of hopelessness that remains throughout the movie. I lost count of the times the Iranians almost discovered Mendez's true intention.
So far, the film has raked in over $76 million because it appeals to a wide range of people: movie-lovers, action-goers, history buffs and those that lived through the Iranian hostage situation. I enjoyed Argo because of the insight and detail it provided me about a true foreign conflict from the past.
Argo is rated R for its abusive language and occasional violence, but it is one of the cleaner rated R movies in theatres now. It is worth seeing because the suspense takes hold of the audience from the first scene and somehow makes it last a long two hours.
In my opinion, Argo was perfection because I enjoyed the idea of a movie based on a true, declassified story. It reminded me of Valkyrie, Bryan Singer's version of the most famous plot to kill Hitler because the missions in both films were so daring that I cannot believe they were attempted. Although it is hard to tell exactly how accurate Argo is, I thought it provided unique insight into a historic time in international affairs.
Overall, I would put Argo at score of 9 out of 10 because it contained a good balance between suspense and action in a historical form.
Although my experience was quite suspenseful, Argo proved to be a fascinating reminder of an American struggle.