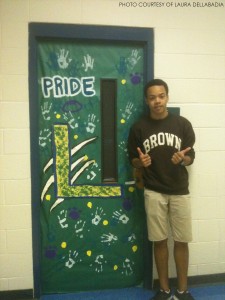 Homecoming week has always been a tradition among students and teachers here at Leesville. However, participation in the week has continually declined. This year, to increase involvement, Homecoming week will be much more than a few activities to allow students to broadcast their school spirit.
To spice up Homecoming week, a friendly competition rages on between freshman, sophomore, junior, senior classes and staff members. The goal:  earn as many points possible. The objective: become Leesville 2012 Homecoming Champions. The prize: to gain a plack stating the class name and graduation year, along with different colored metals. The means: to participate in all the school activates.
Activities will include Spirit Doors, Spirit Links, Penny Wars, Community Night, Olympic relays, dressing up and creating floats.
Spirit Doors will once again see the light of day. In the past, students and faculty decorated the outside of teachers' doors. In current years, students and staff decorated the halls with themes of school departments and with general support of the school. This year students will be decorating the doors again.
Duane Barksdale remembers what it had been like to decorate the doors as a freshmen. "I think this way a lot more students will be able to get involved, because they can do it in Pride Period, while before it was only after school," said Barksdale, glad that Spirit Doors have returned.
The decorations on the doors must not cover door handled or windows. The designs will showcase themes of Leesville Pride and Spirit.
"Focusing on not the homecoming theme, but on pride and on our school," said Mrs. Sollie, an teacher and organizer of Homecoming Week. "Decorate teacher doors with green and blue and maybe a theme. For example, if they wanted to do Coach Dinkenor, they could decorate his with soccer balls and that kind of stuff."
A master schedule helped decide what classes decorate what teacher doors. If a teacher primary teaches sophomores, than sophomores will decorate his/her door. However, if a teacher teaches all grade level, then the door will then be designed based on proximity to who decorates the nearby doors. Students will begin decorating during Pride Period, and then after/before school. The doors must be completed by Friday of Homecoming Week at 3 p.m.
Teachers can keep the designs up as long as they choose, to allow others to enjoy the decorations throughout the school year and not just during one week.
Students can buy these colored Spirit Links during lunch to show their spirit of the athletic department. Navy strips of construction paper will be sold for one dollar each, while Kelly green links will be sold for two dollars. On the kelly green Spirit Links, students and faculty can write personalized messages to the football team, a specific player, a coach, a cheerleader, an athletic trainer, or anyone who will be participating in the game.
The Spirit Links will then be hung multipurpose room in the shape of the Olympic rings. While the football players eat their team dinner, they can read the messages. Afterwards, some links will be used as part of the tunnel that the football players run through. Other links will hang on the fence in the shape of the Olympic rings.
The money collected from the purchase of Spirit Links will go directly the Richard Murphy Scholarship.
Penny Wars become another activity that students and factually participate in.
"Penny Wars are awesome. There going to be super fun," said Sollie. An individual jar will be assigned to each grade level, as well as one for the staff. During lunches and two days after school, students and faculty will deposit money into these jars. Pennies add to the class's value amount while any thing else takes away from the class's total."
Each day an announcement will be made, declaring where each class stands in value. If upon the realization that the senior class has 50 dollars in pennies while the freshmen class has much more, then the next day the seniors will come in to place dollar bills or nickels into the freshmen jaw. "You want to put pennies into your class and any other denomination into everybody's else's class," said Sollie.
The money raised during the Penny Wars will be placed into the homecoming account for years to come. In past years, money for homecoming has been taken from other organizations. By creating their own account, this will prevent the need to use other organization money.
This year, in planning this year's homecoming week, Mrs. Rutherford and Sollie sat down together. "We took the good from last year and took the things that didn't work for the past few years and tried to make it what we thought would be something really cool for the students," said Sollie.
"We're excited. We hope students will embrace this and have a good time with it. It will be a lasting memory at Leesville, and something that the kids look forward to every year," said Sollie. "Roll pride, man!"