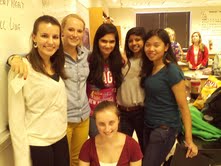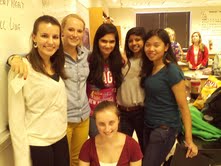 Environmental Club met Tuesday, October 2 after school to do more than just socialize and enjoy some tasty snacks. Instead, the club decided see how they could impact Raleigh for the better.
Jessica Merdes, club president, says Environmental Club works to help local organizations.
"This year the club goal is to focus on local issues and reach out into the community to make a direct difference," said Merdes. Club members voted on which community service project to do, and ended up with the Interfaith Food Shuttle, a group that works to end hunger in Raleigh and throughout NC.
Merdes and some club members are also working to create a run to benefit the Neuse River Cleanup Project, an effort to clean up the trash-filled river.
"Environmental Club this year is trying to have a 5k to support the Neuse River Cleanup Project. It will be really fun because people can come out and run, then they pay for the run to support the Neuse River Cleanup Project," said Merdes.
Shilpa Kancharla, club treasurer, says the club also concentrates on an international organization.
"We pick out different charities that we know of such as ASPCA and WWF–all of these different foundations that we can help out with," said Kancharla.
To Kancharla, the club is more than just an extracurricular or leadership role on her college application.
"It's a great opportunity. You can meet a lot of different people, and it is actually really fun," said Kancharla.
Savannah Fraleigh, freshman member, agrees.
"I'm really into the environment, and Jessica [club president] recommended the club to me, so I went to the first meeting and really liked it," said Fraleigh.
But besides just meeting new people, club members say they learn what they can do to "be green." Claire Walczyk, the club's historian, believes Environmental Club has made her aware about how her actions affect the environment.
"The club has helped me see what the school does to be green and what we could be doing better," said Walczyk.
Kancharla agrees, saying that the club has made her aware of environmental-related issues. Environmental Club seeks to do more, by educating its members about the environment and seeking to serve organizations in Raleigh. And, considering over 40 people have attended the last two meetings, the club clearly has huge potential.